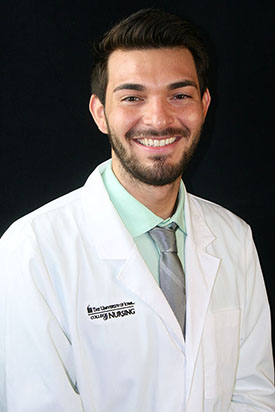 By Jamie Nicpon | Office of Communications & Marketing | 7-21-2021
Current University of Iowa Doctor of Nursing Practice (DNP) student and Bachelor of Science in Nursing alumnus Gerardo Guerrero-Segura was recently selected as a Student Scholarship winner by the American Psychiatric Nurses Association (APNA). Being one of only 30 pre-licensure/undergraduate and graduate students selected to participate in the program is a testament to his exceptional work.
"Receiving the APNA Board of Directors Student Scholarship allows me to be a member of a select group of scholars in the psychiatric-mental health nurse practitioner (PMHNP) profession," said Guerrero-Segura, who is also an Instructional Track Lecturer for UI's College of Nursing. "I look forward to using this experience to expand my network of professional colleagues, to seek guidance from mentors, and to establish future collaborations."
Various personal and interpersonal challenges, including being a first-generation student and gay-identifying Mexican immigrant from an underprivileged family, influenced Guerrero-Segura's decision to pursue a career in psychiatric-mental health (PMH) nursing.
"My upbringing energizes me to support vulnerable people who need or seek psychiatric-mental health care. I also acknowledge the shortage of multicultural representation within the PMH profession," explained the Sioux City native. "By pursuing a PMHNP specialty, I will challenge the sociocultural stigma of seeking psychiatric-mental health care, particularly, in the Hispanic/Latino community. Culturally diverse representation matters in the evolution of psychiatric-mental health care, and I am a qualified candidate to advance the profession."
By winning the APNA scholarship, Guerrero-Segura will receive complimentary membership to the association, which will enable him to access numerous mentoring and networking opportunities with PMH nurses from around the country. He will also receive paid registration and travel/lodging to attend APNA's Annual Conference in Louisville, Kentucky, where he will be formally recognized.
Upon completion of Iowa's DNP-PMHNP program, Guerrero-Segura plans to relocate to the Northeast Coast or California where he will establish a private practice to help educate, empower, and serve clients and families affected by complex psychiatric disorders.
# # #