Wednesday, December 7, 2022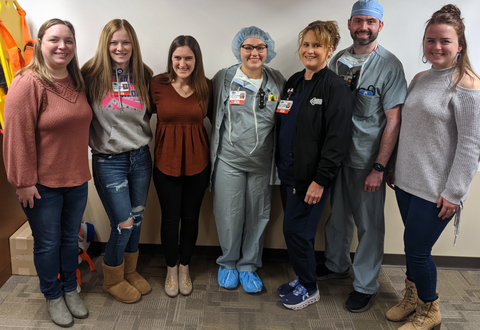 Congratulations to CGH Medical Center (Sterling, IL) for graduating their second cohort of RN residents. The 11 new graduates completed the year-long program and discussed their projects with nursing leaders during the final presentation on Thursday, October 27, 2022.
CGH Medical Center partners with IONRP to provide support, continuing education, and professional development throughout the first year of nursing. The 12-month program provides learning opportunities through online modules, lectures, interactive experiences with guest speakers, group discussions, skill-building, and mentorship.
The program culminates with a quality improvement or evidence-based practice project centered around opportunities for improvement. This year's projects included: Call Light Chaos, Eye Medication Administration in the OR, Nursing Supplies and Equipment, Daily CHG Bathing on Central Line-Associated Infections, Comfort Glide Patient Safety, Delayed Bathing in Newborns, Huddle Boards in the ED, and Intravenous Electrolyte Administration.
CGH thanked Site-Coordinator Nancy Lauritzen, RN, for guiding the nurse residents through the first 11 months of their 12-month program. Nancy was instrumental in the development and success of the nurse residency program at CGH. She recently retired after 40 years of service.
CGH Nursing Program Director Jennifer Grobe, Ph.D., MSN, RN, CNE, finished the last month with the residents. "We had a great presentation of their projects, and we look forward to recognizing their hard work. Our marketing department is posting their picture and projects on social media and throughout the organization," said Grobe.
Interested employers should contact nicole-weathers@uiowa.edu for more information or schedule a time to visit 1:1, to learn more.
IONRP Manager Nicole Weathers, MSN, RN, NPD-BC