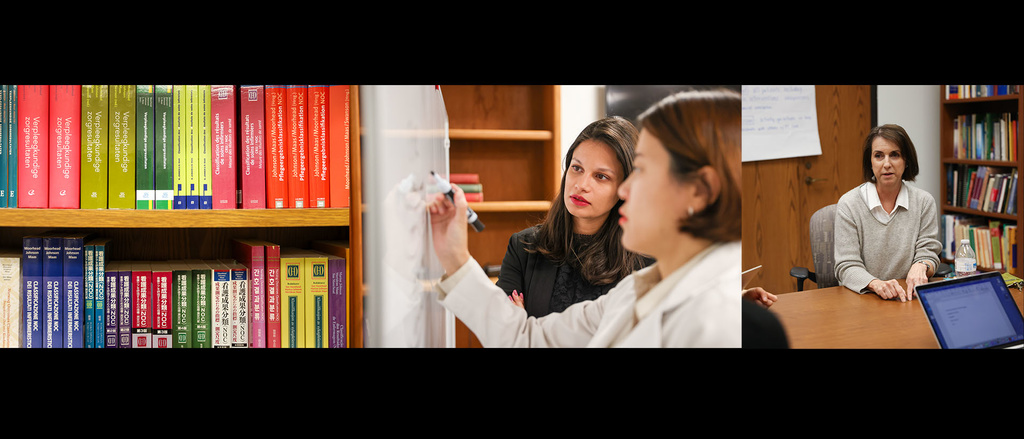 Description

The Nursing Interventions Classification (NIC) and Nursing Outcomes Classification (NOC) are comprehensive, research-based, standardized classifications of nursing interventions and nursing-sensitive patient outcomes. These classifications provide a set of terms to describe nursing treatments and nursing-sensitive patient outcomes.

Purpose

These classifications in conjunction with NANDA-I diagnoses serve as the foundation for nursing process in nursing practice, education, and research.

NIC and NOC provide terms for documenting nursing care, communicating nursing care across settings, sharing data across systems, evaluating outcomes, conducting effectiveness research, measuring nursing productivity, evaluating nursing competencies, facilitating reimbursement, and determining staffing needs, designing curriculum and for inclusion in big data sets.

Practice

NIC and NOC are used internationally by nurses in acute care hospitals, outpatient and ambulatory settings, and rehabilitation and long-term care facilities.

NIC and NOC are included in electronic care planning and documentation systems. There are 10 vendors with licenses for integrating NIC/NOC into electronic software applications. 

Education

NIC and NOC are commonly included in basic and specialty nursing textbooks. Many nursing schools use NIC and NOC in curricular design and care planning activities. It can be used in both undergraduate and graduate courses.

Research

NIC and NOC are used to test the efficacy and effectiveness of nursing interventions.  Research to further refine NIC and NOC is ongoing. Efforts to conduct research using big data are important to adding to the knowledge base of nursing.

Development and Refinement

The development of the NIC and NOC Classifications was supported by funding from the National Institute of Nursing Research and Sigma Theta Tau International. The classifications were systematically developed using research methodologies and field testing. NIC and NOC are established classifications of nursing interventions and outcomes with over 26 years of research in multiple countries.

NIC was first published in 1992. The 7th edition (2018) has 565standardized nursing interventions and more than 13,500 nursing activities.

NOC was first published in 1997. The 6th edition (2018) has 540 nursing-sensitive patient outcomes with more than 11,500 indicators measuring concepts using 5-point Likert scales to evaluate the effectiveness of nursing interventions.

NIC and NOC are continuously refined by teams of nurse researchers, faculty, graduate students, and expert clinicians. Suggestions for refinement and new submissions are accepted from users across the world.  New interventions and outcomes are developed to reflect current practice. 
Recognition

Both NIC and NOC are recognized by the American Nurses' Association (ANA). NIC and NOC are included in the Unified Medical Language System (UMLS) in the National Library of Medicine (NLM) and in the Cumulative Index to Nursing and Allied Health Literature (CINAHL). They are mapped into SNOMED Clinical Terms (SNOMED CT).

Publications

There are more than 1000 published articles in a wide range of journals describing: the development of the classifications; implementation of NIC/NOC in practice settings; use in nursing education; integration into hospital electronic systems; and effectiveness research.

There are 7 editions of Nursing Interventions Classification (NIC), 6 editions of Nursing Outcomes Classification (NOC), and 3 editions of NANDA-International, NOC, and NIC Linkages. Published by Elsevier.

 

Global Use

NIC is translated into: Chinese (Simplified and Traditional), Dutch, French, German, Indonesian, Italian, Japanese, Korean, Norwegian, Portuguese, Spanish, and Turkish.

NOC is translated into: Chinese (Simplified and Traditional), Dutch, French, German, Indonesian, Italian, Japanese, Korean, Norwegian, Portuguese, and Spanish.

Editors of NIC and NOC have presented in 24 countries over the years and the classifications are used in many of the countries, some with country-wide adoption.

Support

The Center for Nursing Classification and Clinical Effectiveness, a self-supporting center located within the University of Iowa College of Nursing, maintains and updates the NIC and NOC classifications.  The editors of NIC and NOC provide consultation for implementation into educational and practice settings, and for conducting research using NIC and NOC. 

Elsevier, our publisher, provides support to vendors and agencies for licensing and implementing NIC/NOC into electronic systems.

Contacts

The Center for Nursing Classification and Clinical Effectiveness:
classification-center@uiowa.edu

 

Director
Karen Dunn Lopez, PhD, MPH, RN
Director  
karen-dunn-lopez@uiowa.edu

Program Coordinator
Noriko Abe, MSN
noriko-abe@uiowa.edu
The University of Iowa
College of Nursing
407 CNB

Licensing and Permissions

Licensing-  Bonita Allen at Elsevier, b.allen.1@elsevier.com

Elsevier Global Rights Permissions, permissions@elsevier.com