The Master of Science in Nursing: Entry into Practice, sometimes referred to as a "direct entry" program, is a full-time accelerated nursing program that prepares students of all academic backgrounds who have a degree in a field other than nursing to become practicing nurses. Upon graduation, students will be prepared to take the nursing licensure exam NCLEX-RN to be licensed as an RN.
Application Deadline for Spring 2024
Applications are being reviewed as space allows; interviews for applications TBD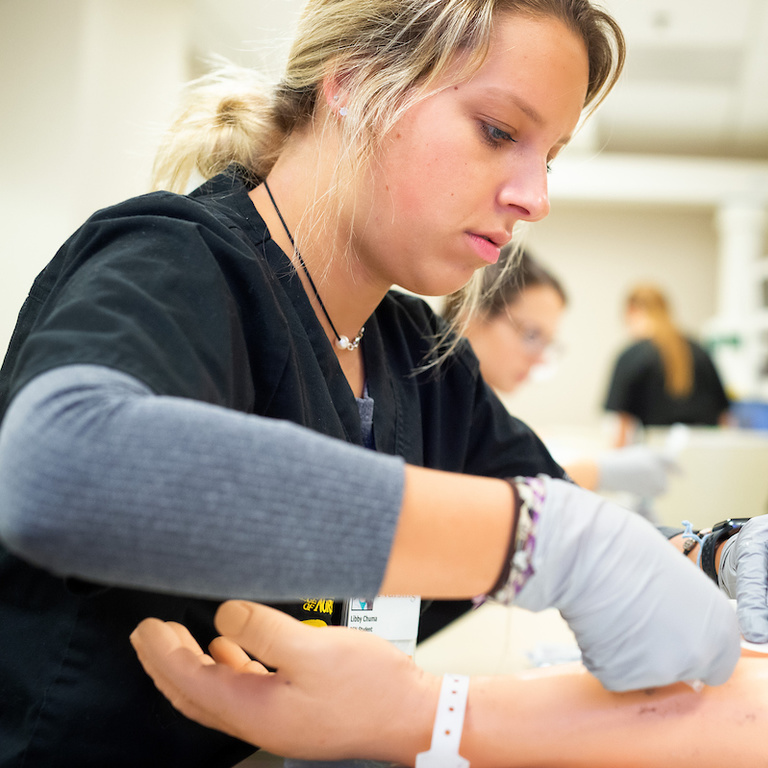 The entry into practice program prepares students to enter the healthcare workforce quickly. Class sizes are small and offer unparalleled educational excellence and clinical practice. Clinical placements and preceptors are secured for students to ensure quality and rigor of hands-on training of patient care, and students will gain experience through simulation and in a wide variety of clinical settings. As a master's prepared nurse, you will be a healthcare professional with autonomy and enhanced bedside nursing education. Graduates may choose to enter the workforce immediately or apply to our doctoral programs.
This accelerated program is a bridge to graduate work for those interested in becoming a PhD-prepared nurse or a Doctor of Nursing Practice (DNP) prepared nurse practitioner. Students will have a shorter plan of study if pursuing the PhD or DNP. Click the hyperlinks to learn more about the PhD and DNP graduate tracks.
Approved by the Iowa Board of Nursing
Approved by the Iowa Board of Nursing

Program Outcomes
Ensure delivery of safe quality nursing care to diverse individuals, families, groups, communities, and populations throughout the lifespan and across systems of care.

Integrate theoretical and scientific knowledge gained from natural and social sciences and culture, society, and the liberal arts into nursing.

Use leadership skills across systems of care to promote equitable, safe, and quality health care outcomes.

Use the best evidence from multiple ways of knowing to inform practice to make clinical judgments, solve problems and address systems improvements.

Analyze how health care policy, regulation, technology, and economics impact nursing practice and the delivery of care.

Use effective interprofessional communication and collaboration strategies to promote quality health outcomes.

Apply health promotion and disease prevention strategies to diverse individuals, families, groups, communities, and populations to promote quality health outcomes.

Demonstrate professional values fundamental to the discipline of nursing.

Apply evidence-based, person-centered care services across the health care continuum.

Mode of delivery: Predominantly face-to-face

Class Size: 32

Length: 20 months

Currently taking applications for Spring 2024