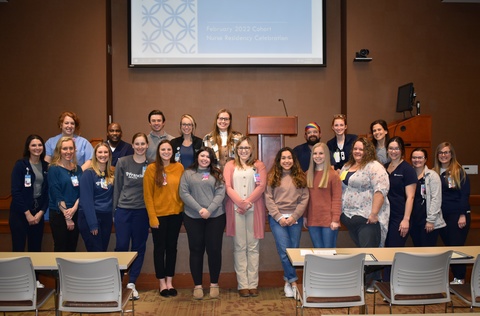 Congratulations to Franciscan Health Central Indiana (Indianapolis, Carmel, and Mooresville, IN) for graduating their first cohort of RN residents. The inaugural cohort of 32 new graduates completed the year-long program and presented their professional experiences during the graduation ceremony on Friday, February 10, 2023.
Franciscan Alliance, Inc., is an extensive healthcare system serving Indiana, partners with IONRP to provide support and professional development throughout the first year of nursing. The 12-month program provides learning opportunities through online content, interactive experiences with guest speakers, group discussions, skill-building, and mentorship. The program culminated with a professional experience centered around opportunities for improvement and included dissemination of the results to leaders and peers. Residents select from a change project, case study, or committee work.
Franciscan Health New Grad Nurse Residency & Critical Care Nurse Residency Coordinator Kim Swisher MSN, RN, NPD-BC, CCRN-K praised the residents for their year-long commitment and shared outcomes of the professional experience. 
Examples from the February 2022 Cohort include:
"We Like to Move It, Move It" - A change project about positioning a laboring mother to help labor progress, decreasing c-sections. 

"Improving Sterilization of Feeding Supplies in the NICU" - A change project providing education on the importance of sterilization and culminating in presenting findings to leadership. 

"Do We Really Care?" - A case study of an incarcerated patient, focusing on the importance of healthcare workers having ethical principles of autonomy, beneficence, justice, and nonmaleficence with all patients regardless of background.

"Educating Critical Care RN Residents on the Role of the Nurse in the Transition from Life Support to Comfort Measures Only" - A change project by a cardiac critical care nurse on the nurse's role in transitioning from life support to comfort measures only. She did a pre-and post-survey after providing education to one of the newer nurse residency cohorts. The content will be added to the future critical care nurse residency program.
"They seemed to appreciate the professional experience once it was done. They learned and made meaningful contributions to their units," said Swisher.
Congratulations to Franciscan Health Central Indiana on completing your first cohort of residents. We look forward to your continued partnership and support of future new graduate nurse hires.
Interested employers should contact nicole-weathers@uiowa.edu for more information or schedule a time to visit 1:1, to learn more.
IONRP Manager Nicole Weathers, MSN, RN, NPD-BC