Wednesday, February 17, 2021
More than a decade ago, Murtis and Andrew Smith created a scholarship to support University of Iowa nursing students. Their daughter, Karen Smith, also is giving back to support future students.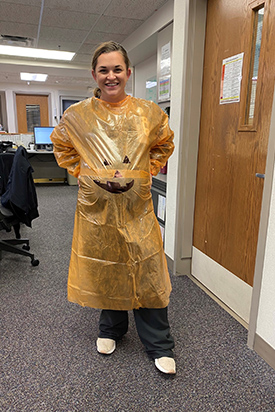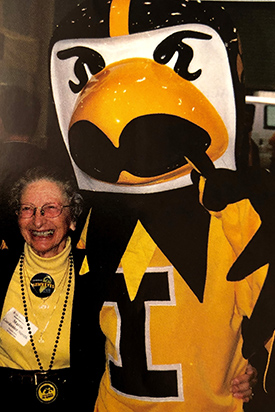 Anna Weikamp always has dreamed of becoming a nurse practitioner.
"I have seen their work in the clinical setting and always admired their ability to bring nursing compassion into a provider role," said Weikamp, who is a mother of two daughters, works as an ICU nurse on the weekends, and currently is enrolled in the Adult/ Gerontological Acute Care Nurse Practitioner program at the University of Iowa College of Nursing.
For Anna, who lives in West Branch, Iowa, scholarships have been instrumental in helping her achieve her educational goals. "Scholarships have taken some of the burden of student loans off our family," she said. "The money toward schooling has been instrumental in my ability to go back for another degree."
Anna is a recent recipient of the Murtis Gordanier and Andrew Clark Smith, MD, Scholarship, which supports students within the University of Iowa College of Nursing. To date, 18 recipients have benefited from this scholarship that Murtis Gordanier Smith (GN '50) and Andrew Clark Smith (BA '50, MD '52) created in 2006.
Their daughter, Karen Smith (BA '78), was so inspired by her parents' generosity that she is supporting their scholarship through a bequest in her own estate plans.
"Their named scholarship created a legacy," said Karen, who lives in St. Paul, Minnesota. "Nursing always was incredibly important to my mom, and dad credited a lot of his success to the nurses at his practice. I also think it's important for people to support—and stay connected—to their university."
Murtis came to the University of Iowa after saving her money from working at the family dry cleaning business in Postville, Iowa. At Iowa, she found a passion for nursing and met her future husband, Andrew, on a blind date.
"Their love story started at the University of Iowa," said Karen.
After moving to Detroit so Andrew could pursue a medical residency, the Smiths came back to Iowa, where Andrew entered medical practice in Waterloo with Herbert Shulman (35BA, 38MD). Andrew practiced for 34 years, retiring in 1990. Murtis served on the alumni board for the UI College of Nursing, and the Smiths never forgot the importance of nurses and nursing education.
Prior to Andrew passing away in 2007, the couple created the Murtis Gordanier and Andrew Clark Smith, MD, Scholarship. The Smiths also enjoyed attending Iowa football games and supporting other areas at Iowa, including the Hawkeye field hockey team. Karen was a four-year letter winner for the field hockey team in the 1970s.
Murtis, now 96 years old, has continued to support Iowa for nearly 60 years.
"Andy was very supportive of nurses and recognized how important their work is to physicians," said Murtis. "I think he would be happy that I continue to support nurses."
Weikamp is grateful for the family's generosity and hopes to pay it forward one day.
"Having this aid towards my schooling has made such a difference, and I hope I can give to a future student," she said.
# # #
Learn how you can make a difference by contacting Dayna Ballantyne, director of development, at dayna.ballantyne@foriowa.org or 319-467-3727. You can explore other options on our planned giving website.