Monday, September 14, 2020
An estate gift from a University of Iowa College of Nursing graduate is helping to support mental health initiatives for current and future students.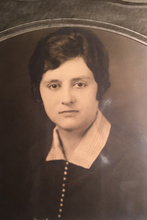 Nearly 100 years ago, Mabel McRevey Kelly (1924GN) left the family farm near Plevna, Kansas, and boarded a train headed to Iowa City so that she could pursue a nursing degree at the University of Iowa. As the first member of her family to go to college, she was taking a big leap of faith during a time when dust storms were ravaging Southern Kansas.
"Aunt Mabel was always the bellwether of the family," said her niece, Kaye Sturdevant Winder (62BA, 72MA, 81PhD), who lives in Coralville, Iowa. "If there was something you needed to do—or wanted to do—she always felt you should stand up and do it. Mabel was a no-nonsense kind of person."
It would have been a very different experience for Kelly in the 1920s. Without a standalone facility until the 1970s, nursing classes took place at the university hospital. She also would have lived in one of two housing locations for nursing students—Eastlawn or Westlawn.
"She would have been a real pioneer," said Dan Wesemann (06MNHP, 08MSN), who is the director of the Psychiatric-Mental Health Nurse Practitioner Program within the UI College of Nursing. "Nursing was just establishing itself as a profession, and I think it would have been a big deal to trek across the Midwest to learn about this new and emerging field."
The experience went so well at Iowa that her sister, Shirley McRevey Sturdevant (38GN), would follow and earn the same nursing degree.
Today, nearly 30 years after Kelly's death, the family farm in Kansas is now helping the UI College of Nursing. Through her estate plans, she created a trust for the Kansas farmground and left it to her niece, Reta Ann Miller, who retained lifetime use of the property. When her niece passed away in 2018, the property passed to the University of Iowa. Kelly's gift is helping the UI College of Nursing pursue mental health initiatives for undergraduate and graduate students.
"Our nursing students are high achievers, and our programs are competitive to enter and rigorous to complete," said Mary Dirks (88BSN, 97MSN, 09DNP), assistant dean for graduate practice programs. "But we also know that many of them may be working and may have kids at home, so it's no surprise that they face a lot of stress while they're completing our undergraduate and graduate degrees."
With the help of Kelly's gift, the UI College of Nursing is pursuing a number of initiatives to support its students—including an undergraduate and graduate student mentoring group and a student-to-student support line to help those who may be dealing with mental health concerns.
"We're hoping to implement the student-to-student support line this fall, and our psychiatric mental health students will staff those support lines," said Wesemann. "Any undergraduate or graduate student can call and talk to someone who understands their stresses and direct them to the appropriate resources."
It's all in an effort to prepare current and future nurse leaders to find success on campus and beyond.
"This gift demonstrates one of the many vehicles available to donors who wish to support the UI College of Nursing, but who may have family legacy concerns—such as small farm operations or other family-run businesses—that prevent them from making outright gifts in their estate plans," said Julie Zerwic, dean of the UI College of Nursing. "We are grateful to Mabel Kelly and her family for the significant impact this gift will have in support of the mental health of our students, especially during a period when mental health concerns are of growing importance."
Learn how you can make a difference by going to our planned giving website or by contacting Dayna Ballantyne, director of development, at dayna.ballantyne@foriowa.org or 319-467-3727.
# # #