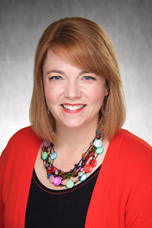 The University of Iowa College of Nursing is pleased to announce that Dr. Stephanie Gilbertson-White is the recipient of the 2019-2020 Collegiate Teaching Award.
The purpose of this prestigious award is to recognize excellence in teaching that goes above and beyond expected teaching responsibilities and inspires students. It is truly an honor to be recognized by students and colleagues for excellence in teaching. Our faculty admirably embrace teaching and mentoring.
Dr. Gilbertson-White creates an engaging environment for students that is interdisciplinary and crosses all our nursing programs. She is a highly sought out mentor and advisor among nursing and non-nursing students which speaks volumes to the inspirational influence she has on students. One of her students wrote, "When I think about my future career and how I want to teach nursing students, adopting Dr. Gilbertson-White teaching style helps me to clearly shape a teaching style that will be helpful for students" 
Within the College of Nursing Dr. Gilbertson-White has made numerous contributions to the teaching mission including but not limited to coordinating the Undergraduate Research Program, being an active member of PhD Admission Committee, and assuming the Chair of PhD forum.