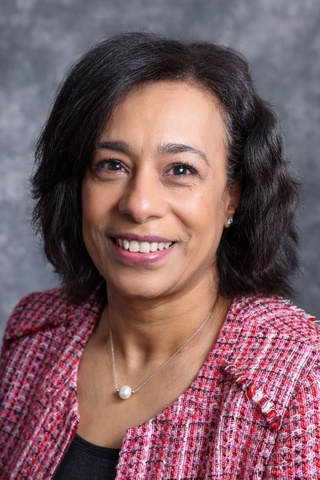 A team of University of Iowa researchers led by College of Nursing Associate Professor Amany Farag, PhD, RN, has been awarded a three-year, $1 million grant from the Agency for Healthcare Research and Quality to implement and evaluate the usability and effectiveness of an electronic student medication record aimed at reducing medication errors in K-12 schools. 
The interdisciplinary project research team includes co-investigators Ann Marie McCarthy, College of Nursing; Hans Johnson and Yong Chen, College of Engineering; Heather Reisinger, College of Medicine; Amber Goedken, College of Pharmacy; and Priyadarshini Pennathur, Department of Industrial, Manufacturing and Systems Engineering, University of Texas- El Paso
Approximately 27 percent of the 52 million school-age children (5-18 years) in the United States experience at least one chronic medical condition requiring them to receive medication during the school day. Throughout the nation, however, widespread budgetary cuts have left nearly 20 percent of schools without a school nurse. When there is no school nurse on staff, medication administration is primarily left to unlicensed assistive personnel such as secretaries.
Errors are three times higher when medication is administered by unlicensed assistive personnel than by a school nurse, and missed doses are one of the most frequently occurring errors. When doses of critical medication are missed, the health and academic progress of the millions of school-age children with chronic medical conditions who rely on medication is placed at risk.
To reduce this risk, Farag's research team developed a technology-assisted system to help with medication administration and documentation. The Electronic School Medication Administration Record (eSMAR) is designed to prevent medication errors in schools, streamline the medication administration process, track medication use, and improve medication administration documentation. Its design was guided by strong evidence from acute care settings showing a significant reduction in medication errors following the use of barcoding and other technology-assisted systems. Dr. Farag obtained pilot funding from the University of Iowa Institute of Clinical and Translational Science for the project, and Dr. Hans Johnson, associate professor of electrical and computer engineering in the College of Engineering, led the prototype development.
With this AHRQ grant, the eSMAR system will be implemented and evaluated in a select sample of K-12 schools in the Iowa City Community School District over 1 1/2 years. The desired outcomes include a reduction in missed medication doses and errors, an evaluation of the usability and effectiveness of eSMAR, and development of a deeper understanding of the contextual factors influencing eSMAR implementation in schools.
"For years, most of the research conducted to improve medication administration safety was in acute care settings," said Dr. Farag. "With a growing number of school-age children who require medication during their school day, it is time to invest in ensuring safe medication administration for those children. Benefiting from readily available mature technologies is ideal for achieving that goal."
"Dr. Farag and her team have identified an often overlooked but incredibly important area of medication safety improvement – our schools," said College of Nursing Dean Julie Zerwic. "Widespread implementation of the eSMAR system has the potential to improve the safety and wellbeing of millions of children across the country, and this usability study is the first step to get us there."
###
Amany Farag, PhD, RN, is a tenured associate professor in the College of Nursing. She is a health systems researcher, and her research goals focus on understanding reactive and proactive approaches to enhance patient safety, with an emphasis on safe medication administration practices across the care continuum.
The mission of the Agency for Healthcare Research and Quality is to produce evidence to make health care safer, higher quality, more accessible, equitable, and affordable, and to work within the U.S. Department of Health and Human Services and with other partners to make sure the evidence is understood and used.