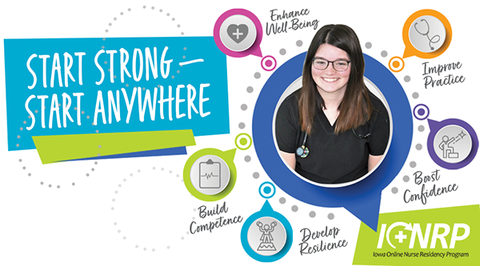 This one goes out to all the new graduates or soon to be new graduate nurses out there. You have worked so hard for the last few years and you are finally ready to start working as a registered nurse. You are excited to put your learning into practice and have begun the job hunt. You have been told that the first year can be a little difficult and that you should look for a hospital that offers a nurse residency program.  Maybe you have already started your search and were disappointed to find that the places you are most interested in don't offer a residency program. Or the ones that you see require that you pick up and move your life to a new city or require a long commute. We see you. 
You want the support of a residency program for your first year as an RN, but you don't want to rearrange your life to do so. I am here with good news to share. We are now offering our Online Nurse Residency Program to individuals just like you. 
Introducing the nurse residency program that can go anywhere you choose to start growing your nursing career. You want to start at your community hospital? We have you covered. Does your local nursing home have your heart? Do what you love to do while getting the support you need. The Iowa Online Nurse Residency Program is designed to be adaptable to all sizes and types of healthcare organizations making it the perfect residency program for you to start strong — start anywhere. New graduates can now experience nurse residency support wherever they go through the combination of online eLearning modules, self-paced activities, monthly live discussion groups with our expert residency facilitators, and ongoing asynchronous discussions. 
For less than the cost of one of your undergraduate courses you can receive 12-months, yes, a full year of ongoing training, resources, and support to ensure you start your career strong. Complete our evidence-based curriculum, connect with other new graduate nurses from around the country, receive coaching and support to make incremental improvement in your practice as you apply the knowledge gained in school at the bedside, and learn action-based resiliency skills to not just survive your first year, but thrive. But wait, there is more! Participants also learn the steps of creating change and impacting care provided, growing as a leader at the bedside through completion of a residency project. This isn't a hypothetical, in the perfect world type project, but one that is brought to life in real-time with tangible results setting you up with the skills needed to begin engaging in meaningful contributions that create a ripple effect for you, your organization, and most importantly your patients.  
Does this sound like just what you are looking for?  Don't delay!  Start Strong – Start Anywhere – Start Today with the Iowa Online Nurse Residency Program's All Online option. To get started join the waitlist for our next cohort and a member of the IONRP staff will connect with you to complete the registration process and get you started with this one-of-a-kind opportunity.  
New graduate nurses join waitlist here: https://uiowa.qualtrics.com/jfe/form/SV_b8fkBXq3lusMLgG 
Nicole Weathers, Program Manager, IONRP nicole-weathers@uiowa.edu