Tuesday, November 5, 2019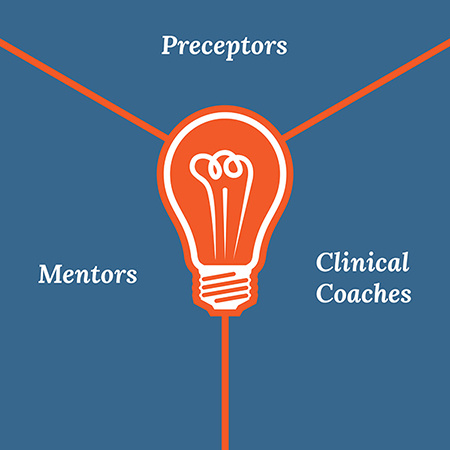 We have focused so much on the new graduate nurses and the need for nurse residency programs I would like to now turn our attention to the role of the support person supporting these new graduate nurses. In a 2013 article, Rush and colleagues conducted an integrated review analyzing forty-seven articles regarding nurse residency programs. They found the most prevalent component shared by transition to practice programs was the availability of a defined resource person to support the new graduate nurse in a one-to-one relationship. While the need for providing a support person to the new graduate nurse while transitioning to practice was evident in their findings the standardization of the defined roles and responsibilities of this support person has yet to be established. Some programs utilize the same support person throughout the entire transition and for others there is a different registered nurse filling each role. The term preceptor, mentor, clinical coach, and even sponsor were all reported as being utilized. Many even using these terms interchangeably.  Let's explore the most common of these roles.
---
Preceptor
Paired or assigned to the new nurse for a short period of time through initial orientation period. Helps the new nurse learn clinical roles and responsibilities, teaching the day-to-day clinical skills of the new graduate nurse. Acts as a resource person and protector ensuring the new graduate nurse learns the clinical skills of their job, gains nursing experience, while providing safe quality nursing care.
Mentors
Relationship tends to originate voluntarily but can be assigned. Extends beyond the initial orientation period and longer term in nature. Focused on supporting, inspiring, and nurturing the new graduate nurse in their professional development. Provides guidance with setting professional goals, career planning, life-long learning, professional development, and contributing to practice improvement.  
Clinical Coaches
An expert nurse who works on the same unit as the new graduate nurse. May be assigned or originate voluntarily and acts as a resource of the new nurse when practicing independently. Clinically focused like preceptors but are not there to supervise or evaluate the new graduate nurse, but instead answer questions that arise when caring for patients. Maximizes the performance of the new nurse by helping, consulting, and advising on clinical needs and skills. Dedicated to providing clinical excellence.
---
Research finds there to be much confusion amongst the nurse graduates and even the preceptors, mentors, and clinical coaches assisting the nurse graduate nurse through the nurse residency program on their individual roles and responsibilities. Also, they found that if each role was not introduced at an appropriate time and the purpose and roles not adequately explained it can lead to additional stress of the new graduate nurse and waste of valuable resources. 
Here is where the problem lies.  How do we get all these components working together to provide the new graduate with the support they need? Could each role be filled by the same individual? Do you, as a nurse leader, need 3 separate programs with different individuals filling each of the roles? I hate to say it, but I really don't think there is one right answer. A facility culture and the human resources available will play a role in the decision. What might work for one organization or even one unit may not work for another. The biggest takeaway from this is the need for relationship building as a key component of success. Which of these roles do you have available to your new graduate nurses? How are they being introduced? Do you have their roles and responsibility clearly defined? I encourage you to take some time evaluating your current state to ensure this best practice has been integrated in a way that supports and adds value to your program.  
---
Rush, K. L., Adamack, M., Gordon, J., Lilly, M., & Janke, R. (2013). Best practices of formal new graduate nurse transition programs: An integrative review. International Journal of Nursing Studies, 50(3), 345-356. doi: http://dx.doi.org/10.1016/j.ijnurstu.2012.06.009 
Nicole Weathers 
Program Manager, IONRP 
nicole-weathers@uiowa.edu