Wednesday, January 13, 2021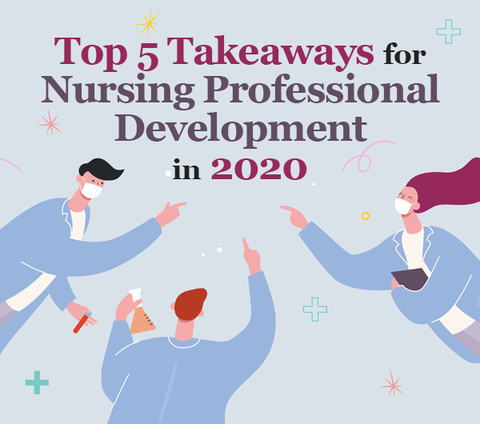 When the World Health Organization declared 2020 the year of the nurse, do you think any of them imagined what nursing in 2020 would look like?   The importance of nurses, their wellbeing, and professional development needs were put in the spotlight.  As we start the new year, I have been reflecting a lot on how we can take the struggle of 2020 and use it as fuel for the future.   
Here are my 5 takeaways from 2020:  
Flexible onboarding - If an organization hasn't already left behind rigid onboarding dates that limit bringing new graduates on just once or twice a year, 2020 taught us that we must get more flexible in our onboarding processes.  Schools of nursing are working hard to prepare the pipeline of nurses as quickly as they can in the current environment and state boards of nursing are enacting emergency licensures and bringing back the graduate and temporary license to get boots on the ground alleviating shortages where they exist.  Takeaway 1: Organizations must be ready with a robust yet flexible and efficient process to onboard new graduates, orienting them to their role, and supporting them throughout their first year and beyond. 
Convenient delivery - 2020 showed us it is not always possible to bring learners together in the physical sense to provide education and training.  This is nothing new to many of us, but for some, it threw a big wrench in how business is done.  Are the days of traditional classroom training a thing of the past?  Many of you might plan to go back to business as usual as gathering restrictions change, but is that what is best for the learner?  It seems 2020 came to teach us we must rethink our training and education delivery methods.  Takeaway 2: Before going back to your traditional methods consider how innovation might be used to efficiently and effectively deliver ongoing continuing education to your learners at their convenience. 
Active learning vs Passive Learning - Not only do we need to look at how education and training are delivered, but we must also consider the learning strategies used. As a nursing professional development practitioner, you probably have been forced to use virtual meeting platforms. Traditional or passive learning delivered via virtual platforms feels like a complete waste of time and resources because often times it is. It is too easy to multi-task or zone out when such methods are used, especially online. If you haven't left passive learning behind, it is vital you do so now!  Takeaway 3:  "Zoom Doom" is real, and we MUST use active learning techniques in the online environments to break distractions and engage the learners in the content.  Use features of your online platform to get participants engaged and learning. 
Focus on wellbeing & resilience – Burnout, compassion fatigue, and moral distress have always been present in nursing and 2020 came and put a spotlight on these issues. In the past, many of us may have thought wellbeing was more of a personal issue and the system of healthcare had little to do with it.  In 2019, the National Academy of Medicine declared it truly is a system's issue and 2020 just drove the point home.  Takeaway 4:  Moving forward, the responsibility can no longer be on the person to improve their wellbeing, but the system must play a part.  We must ensure resiliency training is a staple part of our programs both in academia and professional development AND as professional development practitioners, we must consider how our delivery methods and required training contribute to these issues.    
Fiscal responsibility - Employers are feeling the economic impact of this global pandemic now and will be for years to come.  What can be done to continue to provide the robust programs we have, but do so in a fiscally responsible way? Instead of just cutting programs we must consider how we can use our time and money in a way that is of greatest benefit to the organization. Takeaway 5: We must innovate and find money to support our efforts.  Your time IS money and when calculating the cost of investing in programs that have been designed to alleviate the training burden, you must consider this.  You must also keep an open mind as you look for funding sources.   
As we look at these lessons learned from 2020 and think about what we can do differently in 2021 IONRP is committed to helping our partners overcome these challenges.   
Things to look out for from IONRP in 2021 
Flexible enrollment dates – IONRP will be increasing their enrollment opportunities from 4 enrollment periods per year to 6 enrollment periods per year starting in 2021.  As always blended sites can launch cohorts on demand.   
Convenient delivery – IONRP will continue to utilize online delivery and are making plans to explore how to provide more flexible discussion groups and make-up opportunities for our learners.  
Innovation & active learning – Coming in early 2021, resources for providing residency discussions via virtual platforms. Use our ready-made active learning activities to engage with your new graduates online.  There may even be an opportunity in which our expert nurse residency manager will provide you with lessons to take your virtual discussions to the next level.  
Wellbeing – In 2021 we will be adding more resilience and wellbeing resources into our online curriculum. Instilling healthy habits during year one of the nurse's career will have an impact on the individual and profession for years to come.   
Fiscally responsible – Look forward to an ROI tool residency coordinators can use to calculate ROI and potential cost savings for using our online program.  Also, look for more information on scholarship opportunities and funding to support nurse residency at your organization.  
2020 is one for the record books, but it was not all bad.  I hope like us, you consider what lessons 2020 has taught you when it comes to nursing professional development and how you can use that lesson as fuel for the future.
Nicole Weathers, Program Manager, IONRP nicole-weathers@uiowa.edu
National Academies of Sciences, Engineering, and Medicine. 2019. Taking Action Against Clinician Burnout: A Systems Approach to Professional Well-Being. Washington, DC: The National Academies Press. https://doi.org/10.17226/25521.