Wednesday, September 15, 2021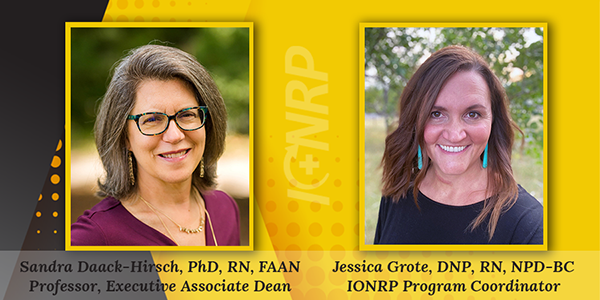 Sandra Daack-Hirsch, PhD, RN, FAAN - Professor, Executive Associate Dean
Please welcome the University of Iowa College of Nursing Executive Associate Dean, Dr. Sandra Daack-Hirsch to the IONRP. Her expertise and support will be a tremendous asset to the program.
"The IONRP is a pioneering program, and under the leadership of Nicole Weathers, it has earned a national reputation of excellence. The program is especially important to new nurses in rural settings where finding peers and support can be a challenge. It's important to be with a cohort and find support as new nurses navigate the process of becoming an independent nurse, because it can be lonely and overwhelming. The IONRP is successful at expanding new nurses' knowledge base and instilling self-confidence. It's an honor to join the IONRP team."
Dr. Daack-Hirsch joined the college in 2007 and in addition to her faculty role, she has served as a senior faculty affiliate in the Public Policy Center, director of the College of Nursing's PhD program, president of the University of Iowa faculty senate, and most recently as the interim executive associate dean.
Dr. Daack-Hirsch is nationally and internationally recognized for her expertise in clinical genetics and has consulted on numerous national projects to promote the education of nurses in genetics. She is also the recipient of the James N. Murray Teaching Award and the University of Iowa Michael J. Brody Award for Faculty Excellence in Service.
Jessica Grote, DNP, RN, NPD-BC - IONRP Program Coordinator
Please welcome our newest team member, Jessica (Jessi) Grote, to the position of Program Coordinator.
"Having grown up in a town of 400 people in northeast South Dakota, rural has always been home to me. I now live in a town of 200 in the Panhandle of Nebraska, where I ranch with my husband and we raise our daughter, dogs, and welcome foster kiddos when we are able. I love to help on the ranch, garden, read, make cakes, and spend as much time with my family as possible."
Jessi graduated with her BSN from South Dakota State University in 2010, and obtained her MSN with a focus in nursing education from Gonzaga University in 2014. Jessi then received her DNP in Executive Leadership in 2020 from the University of Nevada - Reno, and her Certification in Nursing Professional Development in 2021.
Prior to this role, Jessi worked as a staff nurse in a variety of rural acute care settings, from the ICU to med/surg to critical access. Jessi worked in quality, patient and staff engagement, education, compliance, risk management, emergency preparedness, residency coordination, CNE planning and approval, and also was a Chief Patient Care Officer (COO/CNO) for two years. 
"I look forward to working with you as we assist in guiding your new nurse residents in their transition to practice!"
Nicole Weathers, Program Manager, IONRP nicole-weathers@uiowa.edu