Tuesday, January 31, 2023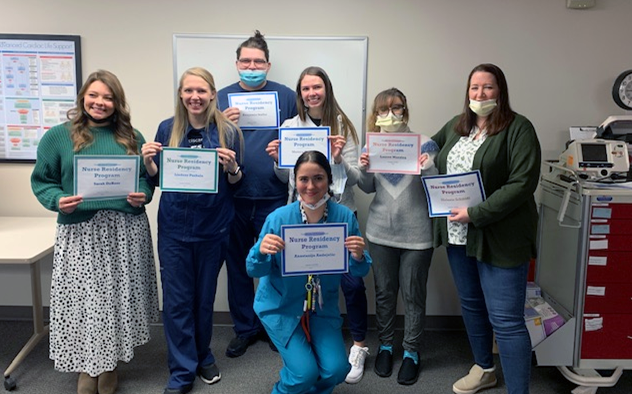 Congratulations to Franciscan Health DHM (Dyer, Hammond, and Munster, IN) for graduating their first cohort of RN residents. The inaugural cohort of seven new graduates completed the year-long program and presented their project posters during the graduation ceremony on Thursday, January 19, 2023.
Franciscan Alliance, Inc., an extensive healthcare system serving Indiana, partners with IONRP to provide support, continuing education, and professional development throughout the first year of nursing. The 12-month program provides learning opportunities through online modules, interactive experiences with guest speakers, group discussions, skill-building, and mentorship.
The program culminates with a professional experience centered around opportunities for improvement. Residents did a fantastic job on these professional experiences, and topics ranged from ED triage protocols, improving shift report sheets, hemorrhagic stroke education, and more. One duo created a triage binder for the labor and delivery floor, guiding nurses on caring for the expectant mother presenting to the unit. Based on the stage of pregnancy, the binder includes what protocols should be followed and the next steps to care for that patient.
In addition, another resident focused on addiction recovery, providing coins to her patients who want to start their recovery while in the hospital. Through this project, nurses can reward their patients for getting through the shift, day, couple of days, or even a week without having a drink or drug while in the hospital. This acknowledges that even though the patient is in the hospital, they are starting their recovery process. She wants to let the patient know they are proud of them for 12 hours, 24 hours, and 72 hours of sobriety.
Site-Coordinator, Sarah Bennett, RN, BSN, Medical Surgical Nurse Educator, Franciscan Health, spoke about the residency's positive impact on her residents: "The nurse residency program topics, discussions, and group activities helped them become better prepared for the floor. It was nice to hear their presentations and how they have grown from what we have implemented through the program," said Bennett.
Congratulations to Franciscan Health – Dyer, Hammond, and Munster on completing your first cohort of residents.  We look forward to your continued partnership and support of future new graduate nurse hires.
Interested employers should contact nicole-weathers@uiowa.edu for more information or schedule a time to visit 1:1, to learn more.
IONRP Manager Nicole Weathers, MSN, RN, NPD-BC