Friday, September 3, 2021
By Jamie Nicpon | Office of Communications & Marketing | 9-3-2021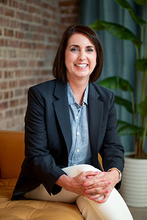 The American Academy of Nursing (Academy) recently announced its selection of 225 distinguished nurse leaders as part of its 2021 Class of Academy Fellows. Among this extraordinary group of new Fellows is University of Iowa College of Nursing faculty member Karen Dunn Lopez, PhD, MPH, RN.
Dr. Dunn Lopez, who is the Director of Research for the Center for Nursing Classification and Clinical Effectiveness, is known for her program of research focuses on identifying factors that can improve the usability and usefulness of health information technologies with the overarching goals of improving decision-making and health outcomes. Her current work focuses on tailoring technologies to individual characteristics in order to facilitate rapid cognition of complex health data.  
"I am thrilled to be invited to be a Fellow of the American Academy of Nursing. This honor not only recognizes my impact to date, but also acknowledges my potential for future contributions to the profession," said Dr. Dunn Lopez. "I am very excited to contribute to the Academy's engagement in public policy change, especially as it relates to my interest in improving electronic health records and technology in health care for practicing nurses and patients with chronic illness."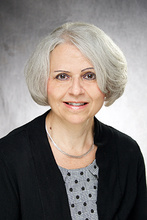 Lou Ann Montgomery, director, professional development and advanced practice at University of Iowa Hospitals and Clinics, was also selected to receive the Fellow designation from the Academy. 
Montgomery, PhD, MAN, RN, NPD-BD, RN-BC, has served in many roles at UIHC throughout her distinguished career, including co-director of the Nursing Clinical Education Center. She is an adjunct clinical associate professor at the UI College of Nursing.
"Lou Ann's impact on nursing practice and nursing education at UI Health Care is profound," said Kim Hunter, DNP, MBA, RN, NEA-BC, chief nurse executive for UIHC. "She is a strong leader who excels in building relationships and strengthening nursing practice here and with other organizations. Lou Ann is most deserving to receive this elite honor."
With this latest class of inductees, the number of UI College of Nursing faculty members who are AAN Fellows has grown to 25.
The newest Fellows represent 38 states, the District of Columbia, and 17 countries. In welcoming these Fellows, the Academy will be comprised of more than 2,900 nursing leaders who are experts in policy, research, administration, practice, and academia who champion health and wellness, locally and globally. 
"I am thrilled to welcome another exceptional class of Fellows to the American Academy of Nursing during a momentous time of change and progress in our collective efforts to fulfill the organization's vision of healthy lives for all people," said Academy President Eileen Sullivan-Marx, PhD, RN, FAAN. "The Academy aims to improve health and achieve health equity through nursing leadership, innovation, and science. The Academy's Fellows embody our values of equity, diversity and inclusivity, inquiry, integrity, and courage, which enable us to achieve new heights of impact that advance health policy across the globe. Congratulations to this dynamic cohort of leaders who bring diverse experience and expertise to the Fellowship." 
Dr. Dunn Lopez and Montgomery, along with the other 2021 inductees, will be honored during the Academy's hybrid health policy conference, which will be held October 7-9.
For a full list of the 2021 Class of Fellows, go to aannet.org
# # #
The American Academy of Nursing serves the public and the nursing profession by advancing health policy and practice through the generation, synthesis, and dissemination of nursing knowledge. The Academy's more than 2,800 Fellows are nursing's most accomplished leaders in education, management, practice, and research. For more information, visit www.aannet.org