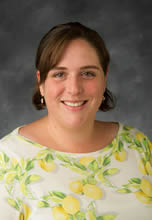 College of Nursing faculty member Catherine Cherwin, PhD, RN, has been awarded the 2016 Diana Benz Seed Grant from UI's Holden Cancer Center for her research project titled "GI Symptom Clusters in Solid Tumor Chemotherapy Patients."
The following excerpt is from the project's abstract:
Cancer patients often experience symptoms as part of multi symptom "symptom clusters" but cancer symptom management traditionally involves managing individual symptoms. Chemotherapy is often included in the treatment plan for people with cancer but chemotherapy is also known to cause a wide variety of symptoms, as many as 19 of which are gastrointestinal (GI) symptoms. Despite the prevalence of GI symptoms, few studies have described GI symptom clusters, and among those studies that do, all used a symptom assessment instrument that under represent GI symptoms.
Through the study, Cherwin and her team hope to identify GI symptom clusters in patients with solid tumor diagnoses receiving chemotherapy; and, determine if GI symptom clusters are related to symptom interference with daily life or quality of life (QoL).
In addition to achieving the aforementioned research outcomes, Cherwin's interest in cancer research also has great personal meaning.
"I had lymphoma when I was young; received chemotherapy; and my GI symptoms were very severe and made a lasting impression on me," she explained. "I then worked as an oncology RN for a number of years. My patients also had a lot of problems with GI symptoms but there was not a lot we as nurses could do for them when pharmacology failed. So, when I pursued my PhD I knew I wanted to develop a nonpharmacological, complimentary approach to manage co-occurring GI symptoms in people with cancer."
Part of the Diana Benz Memorial Fund, the grant provides up to $20,000 for cancer research projects related to psychosocial issues, complementary and alternative medicine, and other aspects of cancer research with a focus on quality of life for cancer patients and survivors.
"So much funding and media attention is about cancer cures and pharmacology, and while those areas are incredibly important, we also need to recognize that symptom management, comfort, and QoL is important to cancer care," added Cherwin. "A piece of that is symptom research and being able to offer patients a variety of symptom control options. The Diana Benz Seed Grant brings recognition and support for studies that focus on things beyond the disease and instead get at patient comfort and QoL."
# # #