Thursday, December 10, 2020
Nursing grads unite as advocates for K–12 mental health
By Tom Snee | UI Office of Strategic Communication | 12-10-2020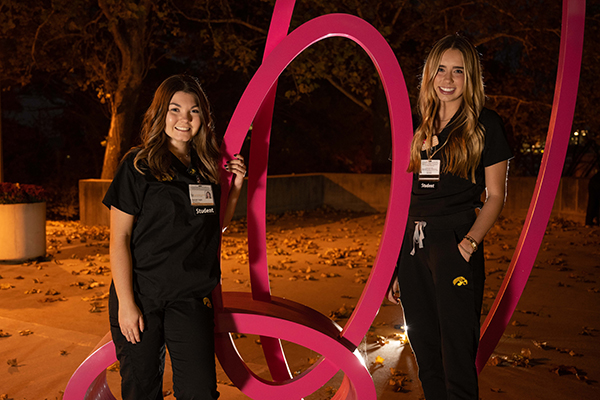 Iowa is one of the worst states in the country when it comes to accessing mental health services, ranking among the bottom of all states in numerous mental health measures.
Iowa nursing students Grace Anderson and Hannah Ingle wanted to help change that with a proposal that would provide Iowa K–12 students three no-questions-asked mental health days off every school year.
"It would give kids a chance to take a break with a stress-reliever day and maybe schedule a visit with a health care provider," said Ingle, a Waukee native. "It would also increase communication with the school so educators would know to check in with those who are struggling."
Anderson and Ingle developed the proposal when they saw how many of their friends struggled with mental health issues, how few services are provided for them in Iowa, and the stigma still associated with reaching out for help. They worked on the proposal with Sen. Liz Mathis, an advocate for mental health initiatives, after the three were connected when a mutual acquaintance committed suicide.
They based their bill on similar laws in Utah and Oregon and with Mathis' help, introduced it during this year's legislative session.
Click here to read the full article by UI's Office of Strategic Communication
# # #