Thursday, December 16, 2021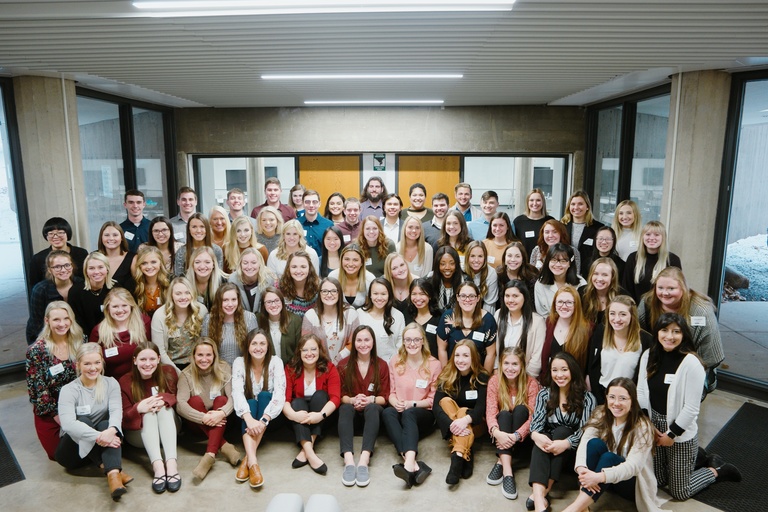 Their white-coat ceremony was cancelled because of a snowstorm and soon after their classes were moved online because of the pandemic, but this year's Bachelor of Science in Nursing (BSN) program graduates will get to celebrate commencement in person. The 71 BSN program graduates, along with 54 Registered Nurse - Bachelor of Science in Nursing (RN-BSN) program graduates, will walk across the Hancher Auditorium stage on Dec. 18 at 9 a.m.
Student commencement speakers are Dominic Gliko of Omaha, Nebraska, who will speak on behalf of the RN-BSN program graduates, and Andrea Pingol of Washington, IA, who will represent the BSN program graduates. Current Master of Science in Nursing student and 2015 BSN graduate Sarah Hackbarth will receive the Outstanding Young Alumna Award, which recognizes a recent BSN graduate who has either demonstrated outstanding leadership and achievement in nursing or related fields of healthcare or has made significant contributions to their community.
Also crossing the stage this weekend will be PhD graduates Katie Knox and Elyse Laures. They will join the Graduate Doctoral Commencement Ceremony on Friday, Dec. 17 at 9 a.m. in Hancher Auditorium.
A live broadcast of the College of Nursing ceremony can be found here.
A live broadcast of the Graduate Doctoral ceremony can be found here.
-----
About the commencement speakers: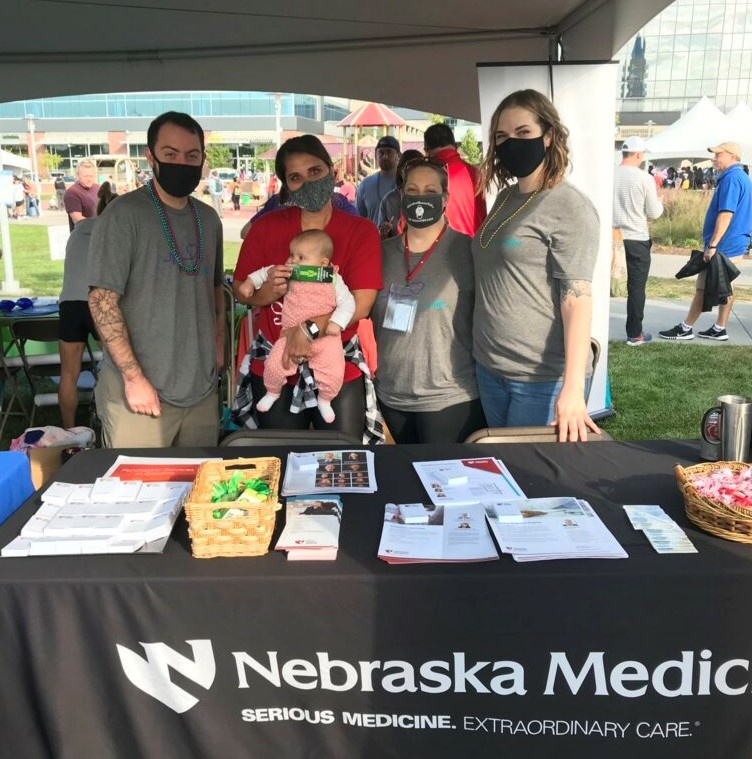 Dominic Liam Gliko is a 2011 graduate of Billings West High School in Billings, Montana. He earned a diploma in practical nursing in 2016 and an Associate of Applied Science in Nursing in 2017 from Iowa Central Community College in Storm Lake, Iowa.
Dom currently works as a clinic nurse in the psychiatric outpatient clinic at the Nebraska Medical Center and as a staff nurse in their psychiatric emergency services unit. An active volunteer with the American Foundation for Suicide Prevention Out of the Darkness Walks, he also spent many years volunteering with the Yellowstone AIDS Project before moving to Iowa.
His passion for nursing is the result of a life-changing experience with a nurse during high school.
"I chose to be a nurse to save lives," Dom stated. "I chose to be a psychiatric nurse to show that life was worth living."
Dom is applying to enter the University of Nebraska Medical Center's BSN-DNP psychiatric nurse practitioner program in fall 2022. He plans to continue working with Nebraska Medicine while completing his DNP and hopes to practice there as an advanced practice registered nurse in the future.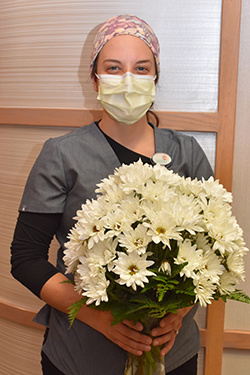 Sarah Hackbarth earned admission to the College of Nursing BSN program directly out of high school in 2011 and graduated with her BSN in 2015. After graduation, she was hired as a staff nurse at the Medical Intensive Care Unit at University of Iowa Hospitals and Clinics. In 2018 she was promoted to assistant nurse manager. In 2020, she was honored as the Daisy Nurse Leader, and in 2021, she was recognized as one of the 100 Great Iowa Nurses.
According to Austin Kannegieter, her nurse manager, Sarah brings a relentless passion for her patients and the staff who serve them. Her spirit, drive, and heart for helping patients and educating others to do so are readily apparent. Kannegieter attributes the unit's success adapting to the challenges of 2020-2021 and COVID in large part to Sarah. She was responsible for the planning and execution of a COVID surge unit, and was instrumental in expanding bed capacity, improving patient flow, and cross training nurses.
Sarah is also pursuing her Master of Science in Nursing – Clinical Nurse Leader degree, with expected completion in May 2022.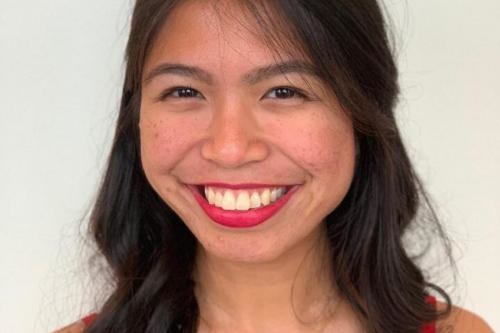 Andrea Kathryn Lim Pingol, a 2017 graduate of Washington High School in Washington, Iowa, has a passion for connecting with others and chose to pursue nursing to make a difference. As a student, Andrea received multiple scholarships and participated in the College of Nursing Honors Program. Her honors project compared patient-reported cancer symptoms with provider-documented symptoms and was presented at the fall Undergraduate Research Festival.
Andrea was heavily involved in the community during her time at the University of Iowa, serving as president of the Hawkeye Optimist chapter, a director in the Iowa Association of Nursing Students, and a peer leader with the Iowa Edge program.
She currently works in the Mercy Iowa City Cancer Care Clinic/Infusion Center as a multi-skilled technician and will begin working as a registered nurse in the Stem Cell Transplant and Cellular Therapies Unit at the University of Iowa Hospital and Clinics in March 2022. She hopes to eventually pursue further education and become a family nurse practitioner with a specialization in oncology.