By Ben Frotscher, University of Iowa Center for Advancement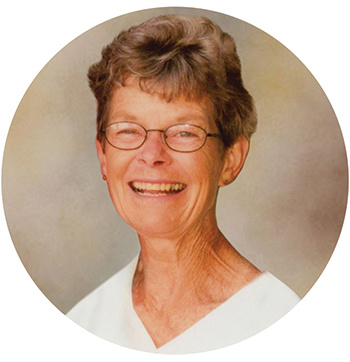 When Mary Noel Iber (62BSN) was forced to move temporarily because of a fire at her University of Iowa sorority, she never expected her short-term housing situation would lead to a romance. Neither did her future husband, Phil Cline (61BA, 87MA).
"After the fire, she was living with Nancy Swisher (43BA), who was a good friend of my mom's," says Phil, who grew up in Iowa City. "They concocted a story that there was an attractive nursing student living with Nancy, and this nursing student thought I was really special. Come to find out, she didn't even know me. It was a classic setup, but I pursued her anyway and eventually got a date."
While a romance developed and they were married two years later, both Phil and Mary, who went by Noel, also received life-changing educations at Iowa. Phil became an administrator and CEO for three different hospitals throughout his career, while Noel had a four-decade career as a nurse—including serving as a head nurse at UI Hospitals & Clinics and at a primary care facility for an Inuit tribe in Kodiak, Alaska. She was also an avid volunteer and loved sailing and kayaking.
"Noel was someone who could do just about anything, and she opted to become a nurse—it was hardwired into her," says Phil, who lives in Eden Prairie, Minnesota. "She demonstrated such empathy for others."
When Noel passed away in 2016 after a courageous battle with cancer, Phil knew he wanted to honor Noel and her nursing career. That's why Phil made an outright gift to create the Mary Noel Cline Memorial Nursing Scholarship at the University of Iowa, which will provide support for nursing students with financial need. The first recipient will be selected this spring.
"I knew how much she enjoyed her time at Iowa, and knowing what being a nurse meant to her, this seemed like a great way to honor and memorialize her," says Phil. "There are students out there that maybe don't have families who can support them through nursing school—like Noel did. And if they have the skills that will make them great nurses, this seemed like a compelling reason to help future nurses."
Learn how you can make a difference by contacting Dayna Ballantyne, director of development, at dayna.ballantyne@foriowa.org or 319-467-3727. You can explore other options on our planned giving website.