Expressing a shared commitment to increase student access to higher education, the University of Iowa College of Nursing (UI-CON) and Southwestern Community College (SWCC) celebrated a new articulation agreement yesterday that allows SWCC nursing graduates to seamlessly transfer to the UI-CON and complete their Bachelor of Science in Nursing (BSN) degree.
With this new agreement in place, students who attend SWCC to complete the licensed practical nursing and registered nursing (RN) programs can transfer to the UI-CON RN-BSN program for one additional year to earn their BSN. Students are guaranteed admittance to the UI-CON provided performance standards are met at SWCC and, since the RN-BSN program is online, students can work as RNs in their communities while completing their degrees.
During the signing ceremony, which took place at the Allied Health and Science Center on Southwestern's campus in Creston, SWCC president Dr. Marjorie McGuire-Welch described the importance of the agreement for the community and the state.
"Southwestern nursing truly feeds the healthcare system in rural southwest and south-central Iowa," Dr. McGuire-Welch said. "That is one reason we are consistently looking for new opportunities to assist our students and graduates as they continue to pursue additional education. A great benefit to this online option is that Southwestern nursing graduates will be able to stay in their communities and work as registered nurses while completing their bachelor's degrees."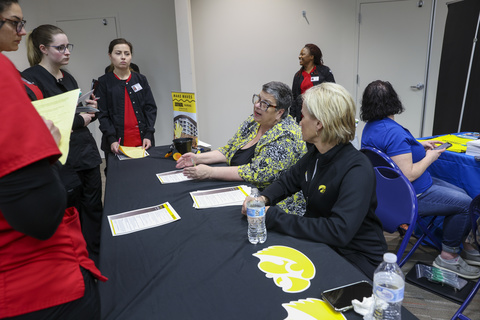 The American Association of Colleges of Nursing (AACN) found articulation agreements like this one to be important mechanisms that enhance access to baccalaureate level nursing education. According to the AACN, these agreements support education mobility, help to inform students' course selection, streamline the application process, and promote collaboration among educators across nursing programs.
Research shows that baccalaureate-prepared nurses are exposed to competencies including health policy, leadership, evidence-based practice, and systems thinking; they have skills in research, teamwork, and collaboration; and they are equipped to meet the increasingly complex demands of care both in and outside the hospital.
"As we work in this critical time to strengthen the nursing profession and health of our communities, we're encouraging future nurses to pursue the next level of education available to them," Julie Zerwic, dean of the UI-CON, said at the ceremony. "Agreements like this one between the University of Iowa and Southwestern Community College help make that next level of education attainable by providing a path that starts with students at the beginning of their program at Southwestern Community College. It respects the reality of nurses already in the workforce, it improves access, and it breaks down barriers."