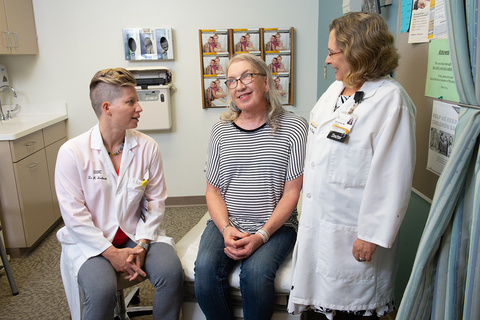 By Aleksandra Vujicic, UIHC
University of Iowa Health Care has been named an "LGBTQ+ Healthcare Equality Top Performer" by the Human Rights Campaign (HRC) Foundation, part of the nation's largest LGBTQ+ civil rights organization. 
The designation was announced in the 2022 Healthcare Equality Index (HEI), the HRC Foundation's annual evaluation of the policies and practices health care facilities devote to equitable treatment and inclusion of LGBTQ+ patients, visitors, and employees. 
"University of Iowa Health Care is committed to striving toward providing welcoming and affirming care for lesbian, gay, bisexual, transgender, queer, and questioning patients," says Denise Martinez, MD, interim associate vice president for health parity with UI Health Care. "The HEI has proven to be a valuable resource that has highlighted opportunities for further improvements and provided best practices from organizations across the country. This recognition is important for current and prospective patients, students, faculty, and staff."  
UI Health Care is among 251 health care systems nationally to earn this status. A record 906 facilities participated in this year's survey.  
Among efforts to make UI Health Care more diverse, equitable, and inclusive, the LGBTQ Clinic provides full-service health care to adults and adolescents from the LGBTQ+ communities. The clinic—the first of its kind in Iowa—serves between 13,000 and 15,000 people. Every member of the clinic's staff has received LGBTQ-specific cultural humility training to ensure a welcoming and affirming health care environment for all patients. 
Read the full University of Iowa Hospitals and Clinics news article here