Wednesday, January 4, 2023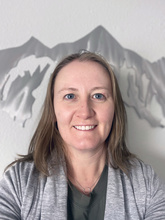 Jessica Ociepka, MSN, RN-BC – Program Coordinator
Please join us in welcoming our new hire, Jessica Ociepka, who will work remotely from Silverthorne, Colorado as a full-time program coordinator with the Iowa Online Nurse Residency Program. The exciting growth of our program's online option has created a need for more online facilitators. Jess comes to us with knowledge of our program as the previous site coordinator for her facility that participated in our online nurse residency.
Jess was born and raised in Southern Maine. After obtaining her nursing degree from the University of Maine, she worked in a busy cardiology unit in a large teaching hospital in Maine for several years. In 2014, Jess and her husband moved to Colorado. Jess has spent the last eight years of her nursing career working in Vail, CO as a clinical nurse educator while continuing to staff at the bedside. In 2018, she joined Colorado Mountain College as an adjunct faculty member, teaching the nurse aide program and, more recently, clinical for nursing students. Then, in 2019 Jess completed her master's degree in Nursing Education from Southern New Hampshire University.
"I love teaching and am passionate about mentoring new graduate nurses. I'm excited to join the IONRP team!
 Jess lives in Colorado with her husband, two dogs, and cats. In her free time, you can always find her outdoors. Jess loves to snowboard, hike, camp, and mountain bike.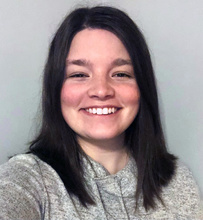 Amanda Bruscher, BSN, RN – Part-Time Program Coordinator
Please join us in welcoming our newest hire, Amanda Bruscher, who will work remotely from Cherokee, Iowa as a part-time program coordinator with the Iowa Online Nurse Residency Program. Amanda is a former IONRP participant, completing the program in 2018 and the IONRP preceptor course in 2020. 
Amanda's nursing career started in 2016 when she graduated with her LPN from Northwest Community College in Sheldon, IA. Amanda earned her BSN in 2018 and is currently working on her MSN-CNL at the University of Iowa College of Nursing. Amanda has worked at Mercy Hospital in Sioux City, IA, and Cherokee Regional Medical Center in Cherokee, IA.  Amanda has experience in med surg, telemetry, and postpartum. For the past two years, she has worked at an oncology and infusion clinic, where she gained knowledge in many areas of nursing. Amanda has trained new nurses and has been a preceptor and a mentor.
"I am at a point in my career where I want to jump into the leadership/educator role of being a nurse. As a new grad, I completed the nurse residency course through the IONRP in 2018 and found it very helpful as I started my career. I look forward to connecting with new grads, being a mentor, and being part of a wonderful team!"
Amanda lives in Northwest Iowa on an acreage with her husband, her 6-month-old son, two black labs, and one cat. She enjoys spending most of her time outside, whether taking the dogs swimming in the river, going for side-by-side rides, or camping at Lake Okoboji or Yankton. Amanda enjoys baking, reading, crafting, and walking in her limited free time.
Nicole Weathers, MSN, RN, NPD-BC nicole-weathers@uiowa.edu
Iowa Online Nurse Residency Program Manager