Thursday, February 2, 2023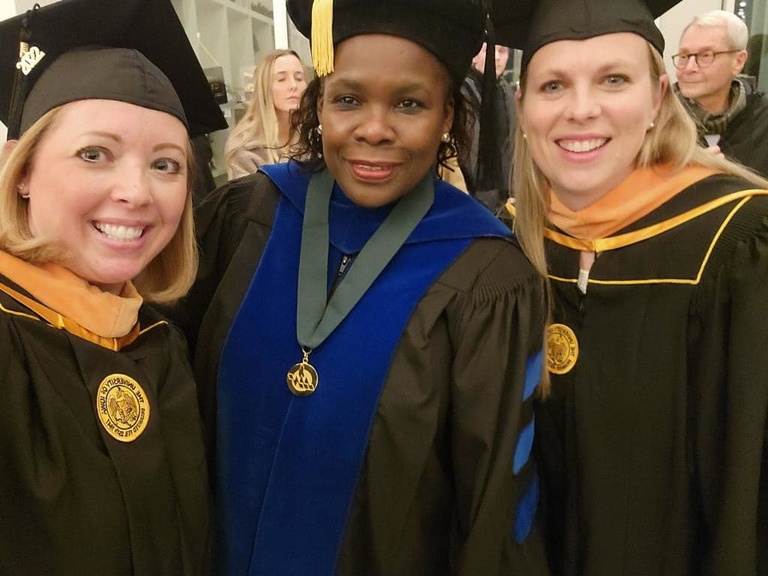 Lindell Joseph, PhD, RN, FAAN, FAONL, has a passion for advancing nursing leadership. Highly regarded in the field, Joseph serves on the board of the American Organization for Nursing Leadership Foundation for Nursing Leadership Research and Education and was recently appointed by the AONL as PI with the Daisy Foundation to study recognition in the nurse manager role for the Nurse Manager Initiative. Joseph also leads the AONL workforce committee Culture of Inquiry, whose charge is to develop tools to support leaders to navigate the work environment and to challenge the status quo. "I have always strived to be a catalyst of change for nurses, nurse leaders, and health care organizations," said Joseph.
"On a daily basis, I continue to envision new methods to influence the complexity of nursing, nursing leadership development, and health care delivery."
Joseph brings that passion to work at the University of Iowa College of Nursing as director of the health systems/administration program, where she oversees the Doctor of Nursing Practice in Health Systems/Administration program as well as the Master of Science in Nursing Clinical Nurse Leader and Nursing Systems Administration programs, the latter of which was recently ranked seventh in US News & World Report's 2023 Best Online Master's in Nursing Administration rankings. Additionally, Joseph serves as faculty advisor to the Young Nurse Leaders Program, a one-year mentored program for undergraduate nursing students interested in a career in nursing leadership.
At Iowa, "we have a legacy of doing nurse administration and doing it very well," Joseph said. "We have a pulse in terms of what is happening, and we are active and proactive in terms of trying to figure out what do students need for today, and what the students need for the next ten years.
The complexity of the environment warrants systems thinking. It warrants a different type of mindset, with the ability to navigate in an environment that is influenced by the frontline, providers, administration, the C suite, patients, and society. How do I think within the space? How do I think within this complexity of healthcare and nursing practice?  And how do you strategize and navigate in the midst of complexity and chaos? This is what systems thinking is, and this is what we do very well at Iowa."
The MSN-NSA prepares nurse leaders to serve in a variety of managerial and leadership capacities in all practice environments. The program is designed to ensure students become well-versed in managing teams and delivering care to diverse settings and populations, while equipping them with tools to innovate and create change. As an online degree, it can be done at the student's convenience, and the College of Nursing utilizes its extensive network of clinical sites and preceptors to set up relevant and educational practicums.
In addition to the MSN-NSA, the health systems/administration program also offers a Doctor of Nursing Practice degree in health systems administration. The health systems DNP prepares nurse leaders to reshape health care, nursing practice, and the workforce. Individualized career planning is a key component of the program, and practicum experiences are tailored to future possibilities. DNP students learn to influence through governance, healthcare delivery, promotion of health equity, and collaboration with stakeholders. They use these skills to impact sustainable outcomes for populations and health systems by advancing health, healthcare, the workforce, new knowledge, and policy.
"Nursing has a contract with society to improve health," said Joseph. "How do you influence that contract? When we think about a DNP with a specialization of leadership, it's about being transformational. It's about one who could influence an organization, the entire nursing workforce, associations, and even Congress. You need to have the vision to make a difference. You are provided with the tools, the mindset, and the skills to be a thought leader."
Joseph is a thought leader and an influencer in the field of nursing leadership. Together with Diane Huber, professor emerita, she served as editor for Leadership and nursing care management (7th ed., 2021) and co-authored the chapter on 'Governance and Decentralization'. She was inducted as a fellow of the American Academy of Nursing in 2018 and of the American Organization for Nursing Leadership in 2021. In 2022, she was named the Distinguished Scholar in Nursing by the UI College of Nursing, a recognition that honors outstanding faculty contributions of a mid-senior faculty member who has a distinguished career in advancing nursing science, education, and/or practice through scholarship.