Thursday, February 2, 2023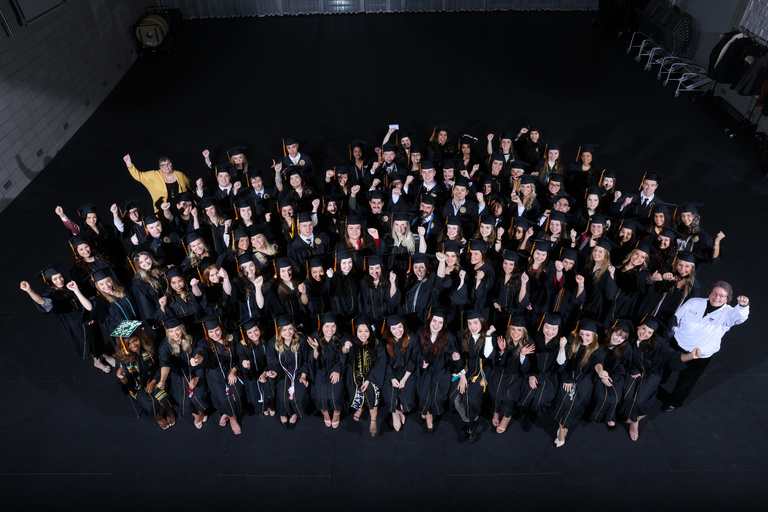 The University of Iowa College of Nursing proudly graduated 115 students in the class of fall 2022.
On Dec. 16, eight Master of Science in Nursing students received their degrees during the Graduate College master's degree commencement. Dr. Lindell Joseph participated in the ceremony on behalf of the College.
The following day, 74 pre-licensure Bachelor of Science in Nursing students and 33 registered nurses who earned a BSN through the RN-BSN program celebrated their commencement in the College of Nursing ceremony at Hancher Auditorium.
In her opening remarks, Dean Julie Zerwic urged graduates to draw strength from those nurses who came before them.
"From Mary Seacole, Florence Nightingale, and Mary Eliza Mahoney to Loretta Ford, Geraldine Felton, and Kimberly Hunter. Feel their power and let it lift you up," she said. "Let it propel you forward as you bring in a new story and as you build that story with leadership, innovation, change, and care – the core qualities of an Iowa nurse."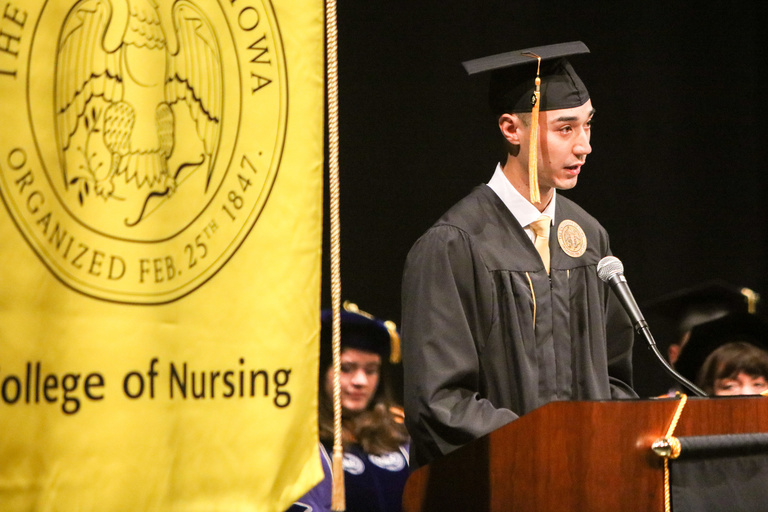 Olivia Harris of Fort Wayne, Indiana, spoke on behalf of the fall 2022 BSN prelicensure graduates and challenged her classmates to remember their 'why'. "Whether you are having the best or worst shift of your life, I challenge you to be the best nurse you can be and give your patients your all," she said.
RN-BSN class speaker Jonathan Szczesny of Iron Ridge, Wisconsin, reminded his fellow graduates that learning the art of nursing is an ongoing process. "Though we celebrate our graduation and completion of this curriculum, we should never consider ourselves finished," he added.
Distinguished Alumni Award recipient Diane Von Ah, PhD, RN, FAAN (87BSN, 96MSN) gave the keynote address and reflected on three main principles that have guided her nursing career: caring and compassion, curiosity, and conviction.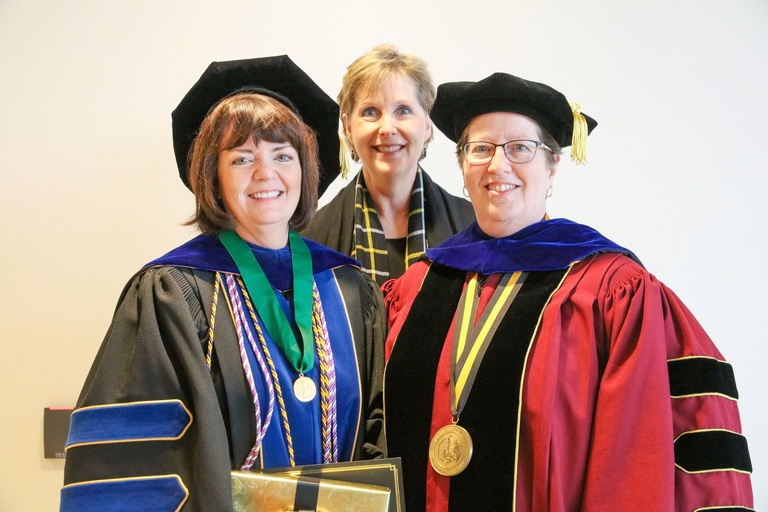 "Caring and compassion was role-modeled in my undergraduate program here at the University of Iowa," Von Ah recalled. "When we are compassionate, we seek to understand what others are going through, we empathize with them, and we show them that we care for them."
Working with cancer patients on both the medical/surgical and gynecology floors, a young Von Ah developed compassion through actively listening, respectful communication, and providing education to address patients' needs and concerns as they arose.
She continued, "I am a firm believer that curiosity is a requisite ingredient to being a qualified and competent nurse …. As part of graduating from this prestigious university, the faculty who mentored me instilled in me that my duty is to question; to question processes and to never apologize about asking questions."
This curiosity served Von Ah well in her clinical roles as a nurse and nurse manager, as well as in her nurse scientist and scholar role where her current nationally conducted clinical trial has the potential to advance care for breast cancer survivors for cancer-related cognitive impairment.
"A conviction is a firmly held belief, it is synonymous with passion; but conviction is based in more of an intellectual approach and passion more of an emotional response," Von Ah said. "However, when you add passion to conviction, you can inspire, and when you inspire, you can change behavior, and when you change behavior, you can change a life."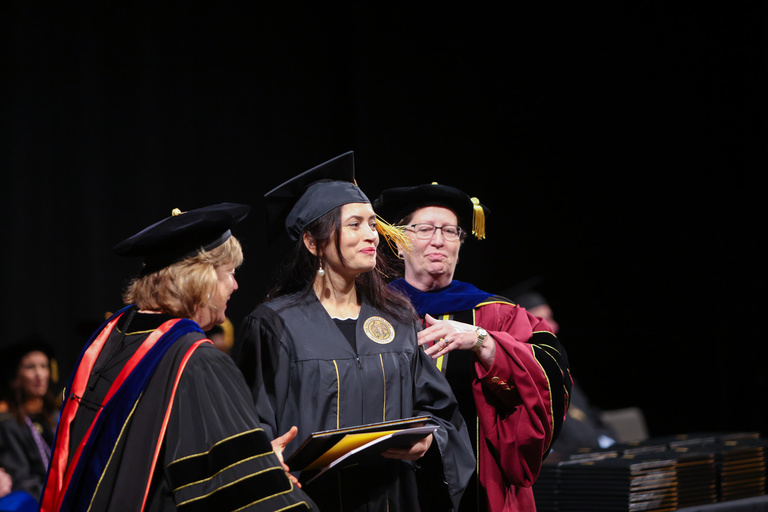 Following Von Ah's remarks, University of Iowa President Barbara Wilson presented the charge to the graduates and conferred their degrees.