Thursday, February 2, 2023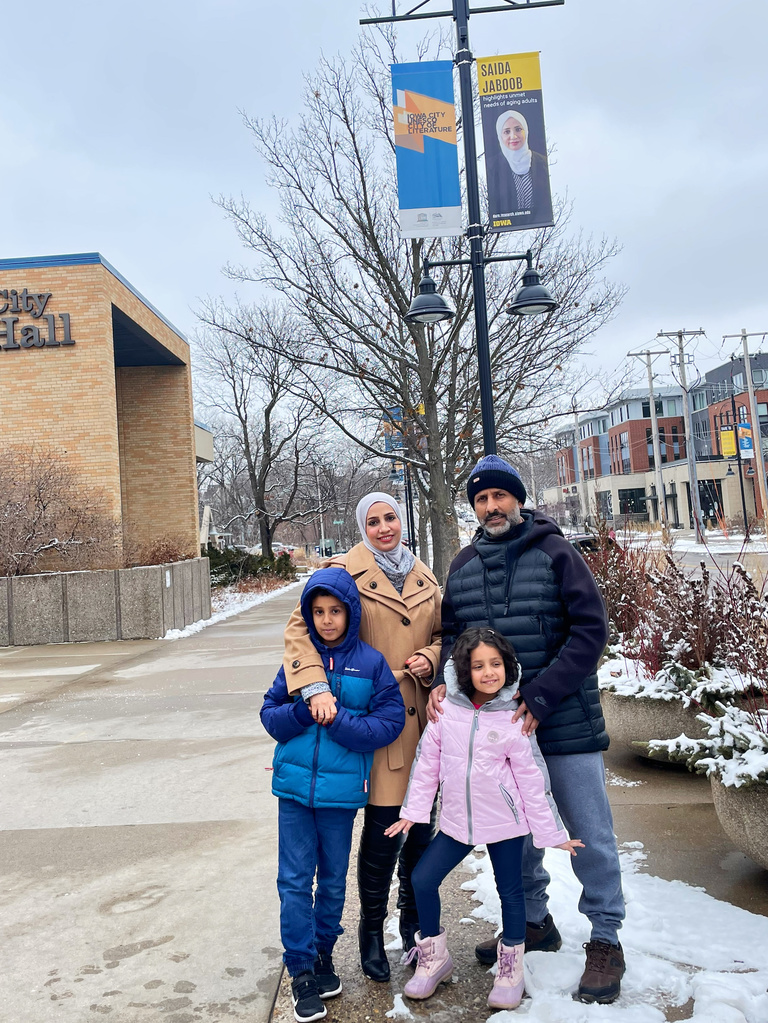 When Saida Jaboob's husband and three children arrived from the Western Asian country of Oman in mid-January, she couldn't wait to take them to City Hall in Iowa City. It wasn't for a lesson in American government, but rather a lesson in research and creativity. Jaboob is one of 70 researchers, scholars, and creators from across the University featured in the 2023 Dare to Discover banner campaign, and her banner hangs on Washington Street, outside of City Hall.
Designed to promote the research, scholarly, and creative achievements generated by exceptional UI undergraduate students, graduate students, and postdocs, the banner campaign is overseen by the Office of the Vice President for Research and has been conducted annually since 2016.
Jaboob had seen the banners downtown and thought, "how nice if one day I can see myself in one of them." She recalls thinking how wonderful it would be to take a picture with the poster and send it to family and friends in Oman.
When she heard about the call for nominations last summer, Jaboob's advisor, Dr. Lisa Segre, jumped on the opportunity.  "Saida's research focuses on identifying care and support needs of Omani older adults living with chronic illness," Segre said.
"This work is important as the population of older adults with a chronic illness in Oman is rapidly growing, and Saida has identified an opportunity to provide care that is better aligned with the needs and goals of this aging population and their families. In her doctoral program, Saida has demonstrated a strong foundation in qualitative methods, which positions her to generate evidence that guides the future of geriatric care, research, and policy in Oman."
Before coming to the University of Iowa, Jaboob was a nurse and faculty member in Oman. Following graduation, she intends to return to Oman and remain in academia so she can teach and mentor students and conduct research.
The news of Jaboob's participation in the banner campaign took Oman, a small country of about 4.5 million people, by storm.
"Being a part of the banner campaign meant a lot to me, my family, and my country," she said. "The banner and the recognition went viral in all social media in my country between my family, friends, and people in my field (nursing). My phone notifications [were nonstop] from people congratulating me for the achievement. People in Oman took it as an achievement for the whole country. Thank you for giving me this chance and making my country proud of me."