Nursing education plays a pivotal role in shaping the future of healthcare professionals. Preceptors, individuals who volunteer countless hours to mentor and guide nursing students, are instrumental in ensuring these students embark on their nursing careers with a strong foundation of knowledge and skills. The University of Iowa College of Nursing partners with preceptors across the state to create meaningful clinical experiences for students.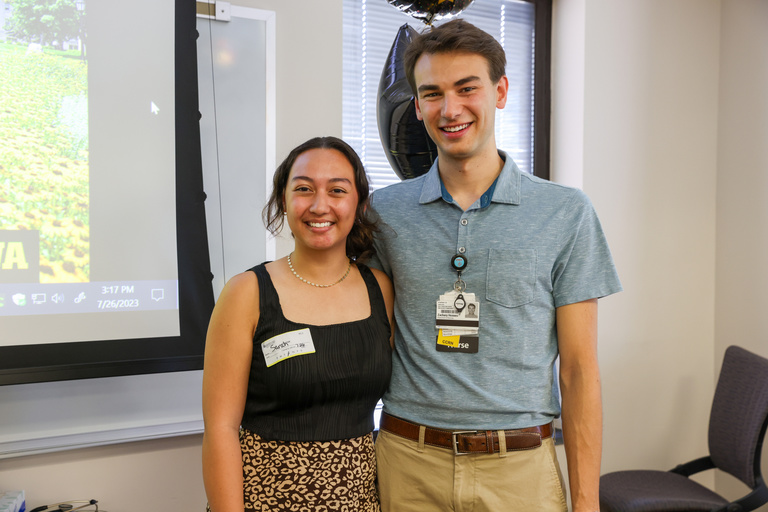 Just two years out of nursing school himself, University of Iowa Hospitals and Clinics (UIHC) nurse Zach Hennes is a shining example of an impactful preceptor. After graduating from Creighton University in Omaha, Nebraska with his Bachelor of Science in Nursing in May 2021, Zach joined the UIHC Surgical/Neuro Intensive Care Unit (SNICU) in August 2021. Zach's commitment to nurturing critical thinking, compassion, and motivation in his senior internship student has left a lasting impact, and his exemplary contributions to education have earned him the Preceptor of the Year award.
Sarah Hodgen, who was precepted by Zach during her senior nursing internship in spring 2023, enthusiastically praises him. "The most positive outcome from the experience was building up confidence in myself and my skills. Zach taught me a lot during our time on the unit and most importantly he taught me to never stop asking questions," she said.
Erica Watkinson, an instructional track lecturer for the College of Nursing's BSN and RN-BSN program, remarks, "Zach is a very motivated individual. The SNICU is lucky to have him at the bedside, and we are lucky to have him as a preceptor at the College of Nursing. He has greatly contributed to the passion for nursing, skills, and critical thinking of a developing nurse, now motivating her to thrive in the SNICU."