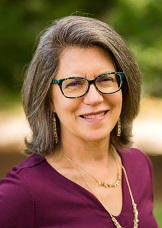 By Jamie Nicpon | Office of Communications & Marketing | 3-26-2020
Associate Professor Sandra Daack-Hirsch has led a storied career in nursing research, predominately focusing on genetic counseling and the care of children and families who have congenital disorders. More specifically, Dr. Daack-Hirsch studies how family health history influences people's ideas about their personal health risk, as well as how family members communicate health risk for inherited diseases.
Under this framework, her most recent research focuses on inherited heart diseases such as cardiomyopathies and heart rhythm disorders.
"Inherited heart diseases are estimated to affect 1 out of 200 families in the United States, and affected individuals are largely responsible for telling their at-risk family members about the disease risk so they can also be screened and treated," she explained. "My team and I are developing an innovative family communication tool that uses modern communication modes to help families pass along life-saving information."
Impacting Iowa's communities and beyond, Dr. Daack-Hirsch has developed a patient-centered program of research that emphasizes public engagement on issues related to the management of genetic/genomic health care information.
"Collectively, my research is casting light on how people perceive risk, given their family history, and how and why this genetic risk is communicated among family members. Effective communication about the risk for developing illnesses like inherited heart diseases is a critical step to prevent life-long disability and early death among at-risk relatives."
As director of the College of Nursing's PhD program, Dr. Daack-Hirsch takes her years of experience in interdisciplinary health care research and uses it to mentor the next generation of nurse scientists. She works directly with the students to not only help them conceptualize their research projects but to see them come to fruition. Through her teaching model and curriculum, student research teams are empowered but also accountable. "The entire team strategizes and problem solves on everyone's projects and tasks," Dr. Daack-Hirsch noted.
Students also have the opportunity to provide mentorship for one another and lead the team based on seniority and ability. This approach leads to a highly productive and interactive research team, enabling students to experience value added outcomes beyond classroom learning objectives by boosting confidence, building a collaborative environment, and growing intellectually and professionally.
"Students who engage in faculty research are successful! They go on to experience exciting new opportunities as nurses, graduate students, and post-doctoral fellows. They can demonstrate exceptional leadership, dedication, and creativity by speaking to their involvement in these individual and team research projects."
To read about more Hometown Hawkeyes from the College of Nursing and other UI departments, click here
# # #