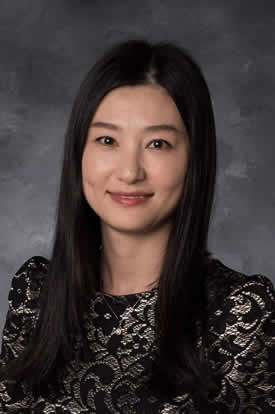 By Jamie Nicpon | Office of Communications & Marketing | 3-27-2018
College of Nursing PhD candidate Sohyun Kim recently won the University of Iowa Stanley Award for International Research for her dissertation which is titled "Dementia: Korean Family Caregiver Needs on Informational Supports."
According to Kim, approximately one in five family caregivers of people with dementia report a high level of caregiving burden, which can result in early nursing home placement for both the individuals with dementia and their older caregivers.
"As a gerontological nursing researcher, I think it's essential to enhance in-home care by providing support to the family caregivers to reduce or prevent these stressors and enhance their ability to carry out their role," she explained. "Although there are community resources to help them, the family caregivers of persons with dementia still report difficulties in communicating with their loved ones and a lack of the knowledge and skills that family caregivers need to provide care."
Kim will spend eight weeks in Seoul, South Korea, where she will conduct research to determine what informational support Korean family caregivers of people with dementia want to receive.
The following excerpt is from the project's abstract:
"The percentage of the population with dementia in South Korea is projected to expand from 10.2% to 15.1% by 2050, increasing the annual costs of dementia care by more than $1 billion. In Korean culture, it is expected that a family caregiver will provide informal care for their parent and spouse who has dementia. This is expected in the context of family obligation. This cultural norm and the lack of available social service to support caregivers lead them to keep their loved ones at home for as long as possible, and this can have a negative effect on the health and well-being of both caregivers and the individuals with dementia."
In Seoul, Kim will conduct in-depth interviews with 15 Korean family caregivers and hopes to gain a better understanding of their needs by focusing on informational support options and assessing their caregiving experience.
"The long-term goal of my research is to establish individualized interventions for in-home family caregivers in an effort to reduce behavioral symptoms of people with dementia and ultimately prevent caregiving burden as well as other complications."
Stanley Graduate Awards for International Research are given annually to University of Iowa graduate students for the pursuit of international research/fieldwork and career interests. Approximately 20 award stipends will be issued to UI graduate and professional students in any academic field—natural sciences, humanities, social sciences, arts, professional studies—who are in the early stages (pre-proposal stage only) of conducting research abroad for master theses or doctoral dissertations.
# # #