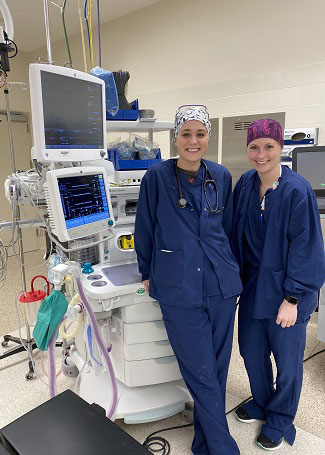 By Jamie Nicpon | Office of Communications & Marketing | 3-30-2020
Student Registered Nurse Anesthetists (SRNAs) play a significant role in our nation's health care system, particularly in rural settings where they work alongside Certified Registered Nurse Anesthetists (CRNAs) and often serve as the community's only option for administering anesthesia during medical procedures. In Iowa, for example, CRNAs are the sole provider of all anesthesia services in 88 of 117 community hospitals in the state.
Current University of Iowa SRNAs Rachel Westernik and Sarah Rohde are working on a clinical rotation at Spencer Hospital in Spencer, Iowa, where, in addition to their regular workload, they are actively preparing for any COVID-19 cases that may enter their facility. The two were recently given the daunting task of teaching ICU nurses and respiratory therapists how to convert and utilize anesthesia devices for ICU ventilation. 
"Dale Kroll (CRNA), a clinical coordinator in Spencer, asked us to put together a presentation to teach nursing and respiratory staff how to use our anesthesia machine as a ventilator. This education is necessary for a rural setting like Spencer due to the impending threat of COVID-19 and the many patients who could require mechanical ventilation due to the spectrum of acute lung injury specific to the virus," explained Westernik. "Rural hospitals have a limited number of ventilators available and a limited amount of staff who can run them. The use of anesthesia machines to fulfill this need is a viable option in an emergency situation."
This proactive development serves as a crucial part of contingency planning that can be used to prepare and educate providers early on. Working with the manufacturer's recommendations, Westernik and Rhode formalized proper procedures and prepared a presentation that has not only been utilized in Spencer but across the nation in other clinical practices.
The SRNAs also taught two classes focusing on the safety and limitations when using an anesthesia machine as an intensive care ventilator. Training included changing ventilation modes and settings, preventing carbon dioxide build-up in the machine, recognizing if the patient is in distress due to the ventilator, and more.
"Simulations we performed included troubleshooting alarms, hooking up a circuit, performing a daily machine check, and how to set up the machine to ventilate more than one patient at a time," said Westernik. "Overall, we received rave reviews about the class from all segments of health care providers who attended the informational sessions. As leaders, to be able to anticipate the growing threats and disseminate this vital information and evidence effectively to other clinicians is what makes us future doctorally-prepared CRNAs from the University of Iowa."
After incorporating feedback and supplemental information into the presentation, a condensed video was made for the nursing and respiratory staff to reference prior to future patient care on an anesthesia machine.
"These students provide anesthesia for emergencies, OB deliveries, etc., in rural Iowa clinics, such as the one in Spencer. In addition to that workload, Sarah and Rachel were able to provide this vital training," said Dr. Cormac O'Sullivan, CRNA, director of the anesthesia nursing program at Iowa. "I'm very proud of our students. They came up with this on the fly at the request of the rotation coordinator and really rose to the occasion."
Westernik and Rhode, both from Iowa City, feel their educational experience in UI's Doctor of Nursing Practice (DNP) in Anesthesia Nursing program gives them a distinct edge when it comes to preparing for scenarios like what they encountered in Spencer.
"With our nursing experience, we innately have the empathetic backgrounds and caring personalities that bode well with a profession that is both physically, mentally, and emotionally challenging," said Westernik. "As an SRNA, the opportunity to grow as leaders within the profession and U.S. health care system make Iowa's nurse anesthesia program stand out immensely among other top-ranked programs nationwide."
The majority of SRNAs who graduate from the University of Iowa end up staying in the state to provide independent anesthesia services, primarily for patients in rural and critical access settings. This is very appealing to those future CRNAs who don't want to leave the Hawkeye state after completing this rigorous program.
"We believe UI's nurse anesthetist program is preparing us, not only to be confident in our skills and knowledge in any anesthesia setting but also to be leaders in health care due to the many clinical site rotations and the wonderful preceptors we have had.
"Our program also prepares us to be professionally involved in the political and business aspects of nurse anesthesia and advanced nursing practice, making us well rounded and ready for independent practice and advocacy for our profession. The intensity of this program has taught us many skills and personal fortitude. The sacrifices we have all made as students make each of us more resilient and better prepared for our future, post-graduation endeavors," added Rohde.
# # #