Wednesday, April 15, 2020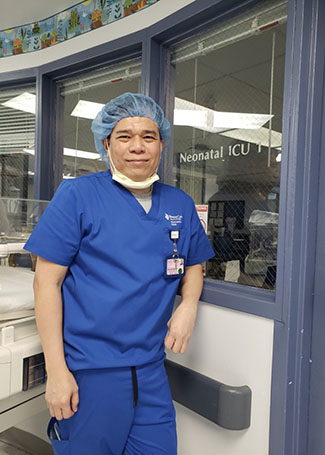 By Jamie Nicpon | Office of Communications & Marketing | 4-15-2020
In the first few months of 2020, it was well documented that New York City was quantifiably the epicenter of the COVID-19 pandemic in the United States. As of mid-August, New York City had more than 235,000 confirmed cases and nearly 24,000 COVID-related deaths.
Noly Agdinaoay, a student in the University of Iowa's Master of Science in Nursing-Doctor of Nursing Practice (MSN-DNP) program, has been working at the BronxCare Health System Hospital in New York City since well before the virus landed on American soil.
Agdinaoay is a staff nurse in the neonatal intensive care unit (NICU) at the BronxCare facility. Even this unit, which treats the youngest of humankind, received coronavirus patients quicker than anyone expected.
"Early on in the pandemic, I went back to work after a few days off and I was surprised to find that we already had our first newborn baby in isolation as a patient under investigation (PUI) because she was born by a COVID-19 positive mother," noted Agdinaoay. "Since then, we have admitted nine babies as PUIs, four of which were born by COVID-19 positive mothers."
So far, none of the babies have tested positive for the coronavirus but they remain isolated until a second confirmatory test result is released.
As one of the largest providers of outpatient services in New York City (close to 1 million visits annually) and an ER that responds to more than 140,000 visits per year, BronxCare hospital staff are no strangers to high volume patient care; however, once COVID-19 cases started showing up everything changed. Agdinaoay immediately noticed a heightened sense of urgency along with significantly increased stress levels.
"There has not been a single day where I don't feel anxious or scared going into work. It's an array of emotions, really. I feel sympathetic, overwhelmed, and exhausted, but I also feel a tremendous sense of pride in the care we're providing."
Like many health care facilities across the country and around the world, BronxCare is dealing with its share of staffing issues as well as shortages of personal protective equipment. In addition to the hospital's NICU patients, Agdinaoay reported the facility's emergency department, intensive care units/critical care units, and all medical-surgical floors are "overflowing" with adult COVID-19 patients.
"At this moment, we're adequately staffed, but some of my colleagues who have previous experience with adult patient populations are being floated from our pediatric unit to take care of adult COVID-19 patients," said Agdinaoay. "To continue providing safe, quality care that patients need, and for us to continue saving lives, we need to be resilient while becoming more resourceful."
Agdinaoay notes that while there are risks in just about any profession, health care providers are facing daunting new challenges during these unprecedented times.
"For those of us in the health care industry, exposure to new, emerging, and reemerging pathogens is extremely high. Because of our vulnerability and risk of contracting communicable diseases, good communication and meticulous planning are an integral part of handling catastrophic events such as COVID-19," said Agdinaoay. "This pandemic has disrupted everyone's life in one way or another. Even the most physically and mentally prepared individuals have been caught off guard and brought to their knees. During these difficult times, we are doing our best to show an unwavering commitment to our patients while also trying to keep ourselves safe."
# # #