Wednesday, April 21, 2021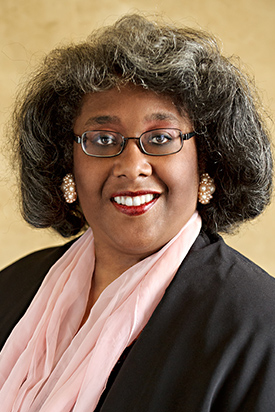 By Jamie Nicpon | Office of Communications & Marketing | 4-21-2021
University of Iowa College of Nursing Diversity Coordinator Valerie Garr was recently announced as a recipient of the Hancher-Finkbine medallion. 
Considered one of the most prestigious awards at the University of Iowa, the tradition of awarding Hancher-Finkbine medallions was established in 1964 and serves to recognize nominees who exemplify leadership, learning, and loyalty.
Garr, who has cultivated learning at the UI for 32 years, leading workshops on cultural competence and health care disparities, privilege and power, diversity and leadership, and student success strategies, was formally presented with one of the coveted medallions during the 2021 Hancher-Finkbine Dinner, which was held virtually on Tuesday, April 20.
"Val is a highly effective communicator and consensus builder for cultural competence," said Linda Liu Hand, director of the college's Office for Nursing Research and Scholarship, who nominated Garr for the award. "She is outstanding and diplomatic when it comes to networking across academic disciplines to develop, execute, administer, and assess sustainable programs and initiatives that have empowered UI to increase its understanding of diversity and social justice issues for positive impact on climate, programming, and success."
Named after the founder of the Finkbine Dinner, William O. Finkbine, and for Virgil M. Hancher, a student guest at the first dinner who later served for 24 years as president of the university, seven Hancher-Finkbine medallions are awarded annually: four to outstanding students; one to faculty; one to a staff member; and one to an alumni who has attained special distinction.
# # #