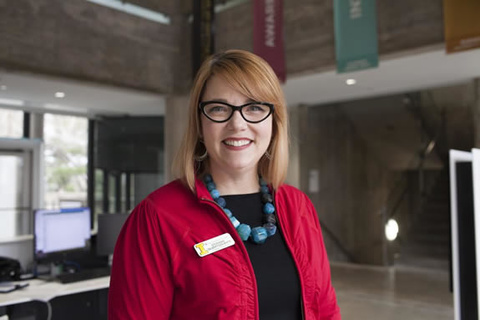 UI nursing professor creates online program for rural cancer patients
By Kelsey Harrell | The Daily Iowan | 4/2/2019
Access to the Holden Comprehensive Cancer Center can make it easier to manage the symptoms patients experience with advanced-stage cancer. However, advanced-cancer patients from rural areas may not receive their treatment from an academic cancer center; they receive treatment in their local community.
Over the past three years, University of Iowa Assistant Professor of nursing Stephanie Gilbertson-White has done research on rural cancer patients and their access to health care. Through her research, she's developed a web-based intervention program called Oncology Associated Symptoms & Individualized Strategies.
Gilbertson-White created OASIS to bring the expertise at the UI to people in rural communities who may not have treatment options available to them, she said.
OASIS consists of a symptom library for patients to read about common symptoms, a strategy library with common ways people manage their cancer symptoms, and a diary component for patients to write about their symptoms and the way they're managing them, Gilbertson-White said.
Patients involved with the research also meet with an interventionist once a week for eight to 12 weeks over an online video conference to discuss managing their symptoms, Gilbertson-White said. The interventionists for the research are nursing students from the UI and clinics across the state, she said.
"If you can think about our website, [patients] might choose to do exercise or increase their activity to help control cancer-related fatigue," Gilbertson-White said. "But the content that you put on a website is pretty general. The nurse helps really tailor it and make it unique to their situation."
Click here to read the full article by The Daily Iowan
# # #