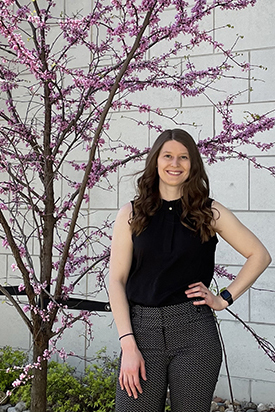 By Jamie Nicpon | Office of Communications & Marketing | 5-14-2021
Jonas Nursing and Veterans Healthcare has selected current University of Iowa College of Nursing PhD student Hannah Dehner, BSN, RN, as a Veteran's Health Scholar. As part of the 2020-2023 cohort of 75 Jonas Scholars from across the country, Dehner and her fellow student researchers will be focusing on priority topic areas of veterans' health care, including mental health, environmental health, and vision health.
"The great thing about Jonas Philanthropies and the Jonas Nursing and Veterans Healthcare Scholarship is that they offer more than funding for my doctoral education. The cohort I will be joining consists of nursing doctoral students throughout the nation with a wide variety of research interests," said Dehner. "This organization truly supports the advancement of nursing science. I am incredibly grateful to have the opportunity to work with such a unique and committed group of individuals over the next few years."
Dehner, who is a first-year doctoral student being mentored by Associate Professor Melissa Lehan Mackin, PhD, RN, is looking forward to networking with fellow scientists and collaborating with students who share similar interests in promoting Veteran's health.
Interestingly, Dehner's initial nursing focus was on pediatric patients; however, a VA residency program during her first year of Iowa's BSN program changed the course of her career trajectory.
"I was accepted as a nurse intern for the Iowa City VA Learning Opportunities Residency (VALOR) program, and my perspective changed," she explained. "I have loved working with the veteran population over the past few years, and I could not imagine my life without their elaborate stories and unique sense of humor. I am both honored and thrilled to continue working with such an incredible patient population."
The $15,000 scholarship will provide funding for Dehner's research as she pursues her doctorate.
# # #