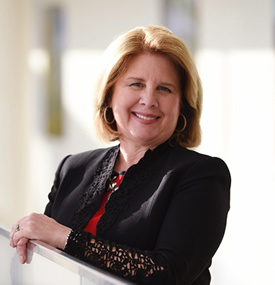 By Jamie Nicpon | Office of Communications & Marketing | 5-2-2018
College of Nursing alumna Linda Chase credits not one but two University of Iowa graduate degrees (PhD and Master of Arts in Nursing) for providing a robust foundation that propelled her into a long and successful career as a nurse leader, including her current role as Senior Vice President and Chief Nursing Officer for CHI Health, the Catholic Health Initiatives (CHI) division, which serves Nebraska and Southwest Iowa. 
As an Iowa City native who also worked at University of Iowa Hospitals and Clinics for a number of years, Dr. Chase was already familiar with the highly ranked programs and tremendous faculty at UI's College of Nursing—making graduate school selection a little less strenuous.
"I chose UI's PhD and MA programs because I knew that I would receive a top-notch education and could leverage my educational endeavors to meet career goals, including becoming a CNO of a single facility, of multiple facilities and now of a large health system," she explained. "I chose a PhD (with a cognate minor in business) so that I could practice in academic settings where teaching and research are essential elements of care and also have the skill sets to lead interprofessional teams and other disciplines. I firmly believe the foundational education I received prepared me for the roles I have held."
In addition to her executive leadership roles, Dr. Chase, RN, NEA-BC, FAAN, is now using her expertise to mentor UI Doctor of Nursing Practice (DNP) students, serving as a preceptor for the nationally ranked (No. 2) Health Systems program.
"Dr. Chase has had a stellar career in the leadership and management of health systems," said Professor Diane Huber, PhD, RN, NEA-BC, FAAN, director of UI's DNP Health Systems program. "It was our great fortune that she agreed to precept one of our current DNP students this semester, giving the student a rare opportunity to immerse in systems leadership."
As Dr. Chase shares her knowledge as a preceptor, she also offers some sound advice for any prospective nursing student.
"I would advise future students to take advantage of the learning opportunities and expertise of the faculty. Don't be afraid to put yourself into new situations that stretch what you know and make you think differently. Go into it with the goal that once you finish you will have totally changed your thinking. Read everything you can about your subject of interest within and outside of nursing because in the end, you will be the expert and can influence others by sharing your knowledge to impact the nursing profession."
# # #