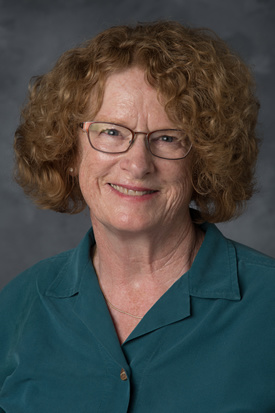 By Jamie Nicpon | Office of Communications & Marketing | 5-28-2019
Millions of Americans are affected by mental health conditions every year. Iowa's citizens are certainly not immune; however, University of Iowa College of Nursing Professor Virginia (Ginny) Conley is doing her part to improve the health care provision and lives of those with severe mental illness (SMI) such as a psychotic disorder, bipolar disorder, or major depressive disorder. Her clinical scholarship is specifically aimed at decreasing barriers to care and improving health-related outcomes for individuals with SMI by using pharmacogenomics to increase the level of personalized, precision care. Dr. Conley's scholarship has made a significant impact on the Program for Assertive Community Treatment (PACT), which has the potential to improve care and reduce costs, including in some of Iowa's rural communities where access to psychiatric/mental health care is often lacking.
As part of her strategy for providing more personalized care, Dr. Conley conducted a quality improvement project in which all consenting clients in the PACT underwent pharmacogenomic testing. Individual test results enabled medication adjustments that led to lower symptomatology, increased engagement in the program, fewer days of psychiatric hospitalization, and reduced cost of care.
"The outcomes evaluation from this six-month personalized health care project revealed a potential savings of more than $250,000 in reduced psychiatric hospitalization costs for the 52 participants," explained Conley, ARNP, FNP-BC, PMHNP-BC, FAANP. "Other nurse practitioners were exposed to the concept and potential of personalized health care when it was presented at the Iowa Nurse Practitioner Annual Conference last year. It was also published in the Journal of the American Psychiatric Nurses Association."
In one of her most recent clinical projects, Dr. Conley was able to reduce barriers to obtaining laboratory monitoring for psychotropic medications by bringing diagnostic lab services to the mental health clinic, expediting the collection of blood specimens.  
"This way, persons with SMI can have labs drawn at the time of service for their regular appointments and are not required to go to additional, external facilities," she explained.
Another important aspect of Dr. Conley's research with Iowans suffering from SMI is the sharing of knowledge and mentoring she provides for current nursing students who are interested in the psychiatric/mental health nurse practitioner role.
"Nursing students have been an integral part of my scholarly projects. I mentor DNP (doctor of nursing practice) students on their graduate projects for both personalized health care and laboratory monitoring endeavors," said Dr. Conley. "DNP students are educated in quality improvement techniques, and these projects provide a training arena for them to apply these principles and practice to the full extent of their education and improve health care outcomes in the future. They also learn about the challenges of individuals with SMI, as well as the challenges their care providers encounter."
Dr. Conley also offers insight into the world of psych/mental health nursing at the undergraduate level by way of the college's Young Psychiatric/Mental Health Nurse Clinician (YPMHNC) program. This young clinician program promotes advanced practice psychiatric nursing by offering shadowing, mentorship, and research project opportunities to undergraduate students who are interested exploring career opportunities in this field.
The YPMHNC program, which started in 2017, is still considered to be in its infancy, and Dr. Conley believes there is tremendous upside and room to grow.
"My vision is that it will continue to attract more undergraduate students and faculty mentors and be a catalyst to careers in advanced practice psychiatric nursing," she added.
To read about more Hometown Hawkeyes from the College of Nursing and other UI departments, click here
# # #