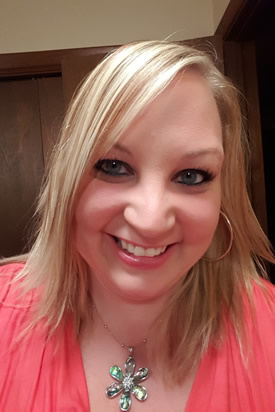 By Jamie Nicpon | Office of Communications & Marketing | 5-3-2019
With a passion for gerontological nursing, registered nurse Darcy Eibs knew she might someday want to further her education. The key, however, was finding a program that would not only allow her to remain in Laurel, Iowa, but also be flexible enough to accommodate her hectic schedule as a full-time nurse. Enter the University of Iowa's RN-BSN program, which provides access to baccalaureate education for nurses throughout the state. 
"The program appealed to me because it is 100% online, with the opportunity for practicum and community experiences being completed near my hometown. It's very convenient and working student friendly," she stated. "It has also given me additional confidence and knowledge, especially in evidence-based practice."
Eibs, who will be graduating from UI's College of Nursing in less than two weeks, currently works at Grandview Heights Nursing and Rehab in Marshalltown, Iowa, where she was recently promoted to co-director of nursing.
"Darcy's passion and expertise is with older adults," noted Pat Nelson, a lecturer in the college who also served as a preceptor for Eibs this semester. "This semester she has been responsible for community education regarding fall prevention to older adults attending the center and has done a wonderful job."
Nelson emphasized that the program's instructors help provide Eibs and other students with a foundation for success, including working with and caring for some of the communities aging adults.
"I have always thoroughly loved older adults," added Eibs. "Caring for this population holds a special place in my heart."
When Eibs is not busy providing care for patients at Grandview Heights, she enjoys many community-minded activities, including serving on Laurel's City Council, and volunteering her time in the spring by helping out with local youth baseball and softball programs. Eibs also enjoys spending time with her nieces and nephews, and recently became a foster parent to two young girls.
After graduation, Eibs plans to continue working full time at Grandview Heights … although, another round of advancing her education has already crossed her mind.
"One of my professors encouraged me to pursue my master's, so it's definitely something I will be considering once the dust settles from wrapping up the RN-BSN program."
# # #