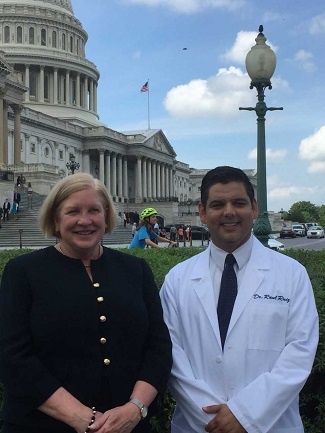 As a representative of the National Association of Pediatric Nurse Practitioners, Professor Susan Van Cleve, director of UI's Primary Care Pediatric Nurse Practitioner Program, spoke to the media about the stress children are suffering when they are removed and separated from parents at the border.
U.S. Rep. Raul Ruiz, who is also an emergency room physician from California, and Arthur Evans, CEO of the American Psychological Association, also spoke during the press conference yesterday in Washington, D.C. Several high-ranking government officials, including House Minority Leader Nancy Pelosi, and House Democratic Whip Steny Hoyer, were in attendance.
- - -
Separated children may develop 'toxic stress,' say health experts
By Tom Howell Jr. | The Washington Times | 6/21/2018
Children separated from their parents at the U.S. border can suffer from "toxic stress" that leads to brain damage and problems later in life, mental health experts said Thursday, warning of depression and anger, learning disorders and the inability to accept love.
When youths experience constant stress or abuse, their bodies enter a state of tension that shifts blood flow and diminishes the brain's ability to even function, said Susan Van Cleve, a pediatric nurse practitioner from Pittsburgh.
Experts, like Ms. Van Cleve, say that's likely happening to thousands of children who have been separated as a result of President Trump's zero-tolerance policy, which has jailed parents who illegally crossed the border, forcing their children to be taken away from them.
Click here to read the full article as it appeared in The Washington Times
# # #