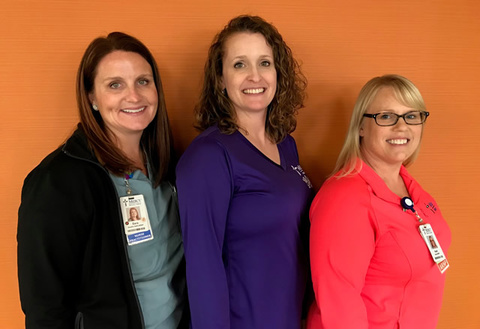 By Jamie Nicpon | Office of Communications & Marketing | 6-25-2018
Sara Neff, Rachel Francois, and Keeli Irwin have several things in common. All three are pediatric nurse practitioners (PNPs) who love working with and caring for children, and they all work at the same Mercy pediatric clinic in Cedar Rapids. In addition to sharing similar clinical interests, all three of these PNPs just happen to be Master of Science in Nursing (MSN) graduates from UI's College of Nursing, who are now passing along some of their knowledge and expertise to current Iowa nursing students by serving as preceptors for the college.
"I enjoy teaching the students what I know and watching them grow and become confident in their new skills," explained Irwin (right), who has been precepting UI PNP students since 2005. "I always learn something new from each of my students as well because they come from different specialty backgrounds."
Neff (left, MSN '13), enjoys meeting and learning from the students almost as much as she does teaching them. 
"They keep me up-to-date on some of the new theories and techniques they're learning about, and I think that makes me a better, well-rounded practitioner," she said. "I believe that people always remember the way you treated them and I have never forgotten how it felt to be a student. I believe that everyone has a place in this world and I can learn from anyone as much as they can learn from me whether it is the janitor or the president of the hospital! We are all part of a team who wants to make a difference in someone's life."
Like Irwin and Neff, Francois, (middle, MSN '04) became interested in pediatric nursing at a very young age and always knew this patient population is where she wanted to focus her clinical work.
"I think PNPs are excellent at collaborating. Our expertise is well respected and very much appreciated," said Francois, adding that UI's College of Nursing played a substantial role in strengthening her PNP skillset and broadening her career trajectory. "I was lucky enough to have excellent instructors that were well known nationally and taught me to be confident in my role as a PNP and to believe that we could speak out in favor of our unique attributes in the world of medicine."
Neff, Irwin, and Francois whole-heartedly agree that their education at Iowa provided an essential foundation in pediatric nursing and played a major role in shaping their career paths, including the level of care they currently provide at Mercy.
"UI is well known for their academic excellence and production of great ARNP providers," noted Irwin (MSN '04). "The CON is like family to me. I have made lifelong friends with classmates, instructors … even my mom works there. UI is an exceptional academic choice!"
"Having the UI brand directly affiliated with where I studied nursing adds credibility to my name and to my practice," added Neff.
This trio of talented and dedicated practitioners are grateful to be in a position where they can make a difference in pediatric nursing. Being able to work side by side with fellow CON alumni has been the icing on the cake!
"I really enjoy working closely with fellow UI graduates because I know the type of education that they received," explained Irwin.
"I love working with UI College of Nursing alumni! We can share war stories, but more importantly, we share a passion for education and providing exceptional care," added Neff. "It's comforting to know that my UI colleagues have experienced the same outstanding level of education and training that I did."
# # #