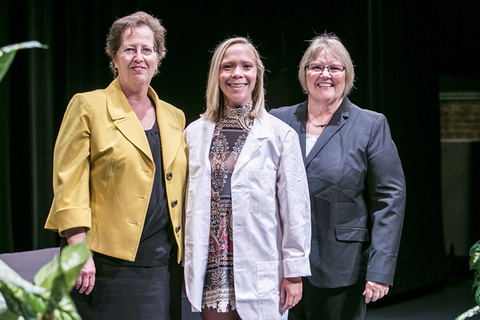 By Jamie Nicpon | Office of Communications & Marketing | 6-7-2018
As a University of Iowa College of Nursing student, Logan Jones knows a thing or two about the importance of hard work, self-discipline, and perseverance; however, when the rigors of nursing school are combined with the scheduling demands of a Division 1 athlete, those organizational skills become even more essential.
"It's all about time management. With a full course load, clinicals, and 20 hours of practice each week, I know that when I have free time I have to take advantage of it. Staying ahead is what has helped me succeed," explained the West Des Moines native. "If I have time to spare, I'm always thinking of what assignment I could be doing or what test I could be studying for."
Jones was raised a Hawkeye fan, so when it came to selecting a nursing program, Iowa was naturally at the top of her list.
"I knew about the college's reputation for excellence and that it was a top tier program, which is exactly what I was striving for," she said.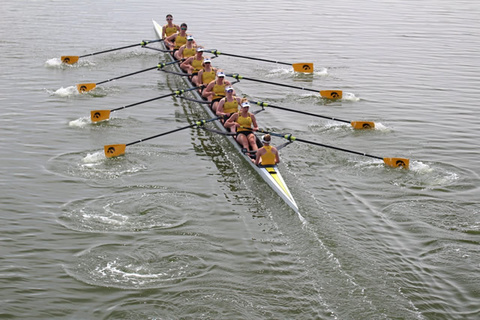 Jones is slated to graduate with her Bachelor of Science in Nursing (BSN) degree in May 2019. Her current clinical interests include the neonatal intensive care unit (NICU), labor and delivery, and perioperative nursing.
"I will be gaining more experience in those areas during clinicals this next semester and I am very excited about that! Of course, there are many other clinical areas to learn about and I am certainly keeping an open mind."
After completing her BSN, Jones said that she plans to work for a few years before furthering her education, eventually pursuing a Doctor of Nursing Practice degree.  
As for her athletic prowess, Jones didn't start rowing competitively until she was a freshman at Iowa; however, with a strong work ethic she quickly rose through the ranks—becoming the varsity boat's coxswain (responsible for steering the boat) by just her sophomore year.
"During races I am the voice inside the rowers' heads while they are pushing themselves to physical limits. I keep them tidy, together and on pace, while letting them know our boat's position in relation to the other crews we're racing against."
The UI Women's Rowing program competes in the fall as well as the spring. During the 2017-2018 season, the team traveled to campuses in California, Michigan, New Jersey, and Texas to race against other highly ranked programs, including Cal Berkley, Stanford, USC, Michigan State, Princeton, Yale, and Virginia. In April, Jones' Varsity 8 boat was named Big Ten Boat of the Week. Following the Big Ten Championship in Indianapolis where Jones' boat placed third, Women's Rowing capped off its season with an 11th place finish at the NCAA Championships in Sarasota, Florida.
# # #