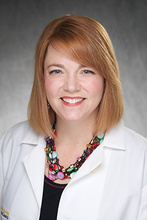 University of Iowa College of Nursing Associate Professor Stephanie Gilbertson-White is one of 11 nurse scientists accepted to the inaugural cohort of the Betty Irene Moore Fellowships for Nurse Leaders and Innovators. This new fellowship program, funded by a five-year, $37.5 million grant from the Gordon and Betty Moore Foundation, recognizes early- to mid-career nursing scholars and innovators with a high potential to accelerate leadership in nursing research, practice, education, policy and entrepreneurship.
As part of the three-year fellowship program, fellows receive $450,000 to conduct an innovative project or study with the potential to address a gap in knowledge, meet a vital need, alter care delivery or design a new solution to advance health. Dr. Gilbertson-White's project focuses on building a working prototype of a web/mobile app that incorporates multimorbidity phenotypic data collected from electronic health records to drive tailored symptom management support using personal informatics and behavior change principles.
"We are excited to see what our nurse leader fellows, including Stephanie Gilbertson-White, accomplish during this fellowship and beyond," said Dean Stephen J. Cavanagh. "Our goal is to build and develop the next cadre of nurse leaders who can bring about change and innovation by networking and disseminating their knowledge across the nation."
In addition to the project, the fellowship program features a hybrid online and classroom curriculum designed and taught in partnership with the UC Davis Graduate School of Management to enhance leadership and innovation capacity, strengthen strategic thinking and collaborative skills, expand professional networks, develop entrepreneurial skills, and propel innovative ideas to fruition. A mentor selected by the fellow and an additional mentor provided by the national program office round out the educational experience.  
The fellowship program is made possible by Betty Irene Moore's passion to advance nursing with the goal of better outcomes for individuals, families and communities. The foundation seeks to prepare nurses as collaborative leaders with the skills and confidence to inspire others, enact change and challenge the status quo. With the creation of the Betty Irene Moore Fellowships for Nurse Leaders and Innovators, the foundation supports nurse leaders who take ideas to scale that advance high-quality, high-value care and optimal health outcomes.
Applications for the 2021 cohort of nurse leader fellows open Sept. 15 with a submission deadline of 5 p.m. PST Dec. 1. For more details, go to https://health.ucdavis.edu/nursing
# # #