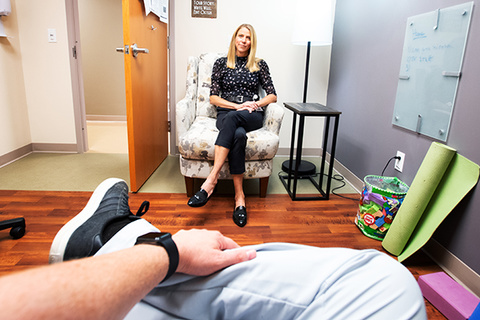 Responding to a growing need for health care providers and specialized nursing training, the University of Iowa College of Nursing has doubled admissions to its graduate practice programs and added clinical specialties over the past five years.
By Sara Epstein Moninger | UI Office of Strategic Communication | 7-7-2021
When Samantha Jirak was hired to provide psychiatric care at a family practice clinic in Benton County, Iowa, it didn't take long for the nurse practitioner to feel overwhelmed by her caseload.
The 2018 University of Iowa graduate, who earned a Doctor of Nursing Practice (DNP) with a dual nurse practitioner certification in family and psychiatric mental health, was one of only three mental health providers in the eastern Iowa county of about 26,000 residents. That's about one for every 8,600 people—well below the state average of one for every 700.
Determined to increase access for her patients and improve their well-being, Jirak used her advanced education and training from the UI College of Nursing to lead an expansion of services and hire a second provider. Now, each sees from five to 12 patients per day, with the most common diagnoses being anxiety, depression, ADHD, PTSD, and substance use. And yet, Jirak says, patient demand exceeds even this increased capacity.
"We're busy—and right now we only take referrals from eight providers. I can only imagine what would happen if we were open to everyone," Jirak says. "The fact that these limited referrals provide for two full-time behavioral health jobs says a lot."
With certification that allows them to examine patients, order tests, diagnose illness, prescribe medication, and provide treatment, nurse practitioners are increasingly filling health care gaps. At the UI College of Nursing, not only do aspiring nurse practitioners receive a top-notch educational and clinical experience through its DNP program, the majority of graduates—more than 80%—stay in Iowa. And by doubling admissions to most of its graduate practice programs in the past five years, the college is sending even more nursing professionals into the workforce.
The DNP curriculum, usually a three- or four-year plan of study, prepares nurses to provide holistic, patient-centered care but also to effect change through leadership, Jirak says.
"Iowa's clinical doctorate program gives graduates the ability to come to the table and present not just from a strictly clinical perspective but more on how to make systemic changes that benefit a population," says Jirak, who earned a BSN from Iowa in 2013 and worked as a pediatric intensive care unit nurse with UI Stead Family Children's Hospital while in graduate school.
Nurse practitioner students at Iowa specialize in adult/gerontological acute care, adult/gerontological primary care, family, pediatric acute care, pediatric primary care, psychiatrics and mental health, or a combination of these areas. Practicing nurse practitioners who want to increase their knowledge can enroll in a postgraduate certificate program in the same specialty areas.
Click here to read the full article by UI's Office of Strategic Communication
# # #