Thursday, August 15, 2019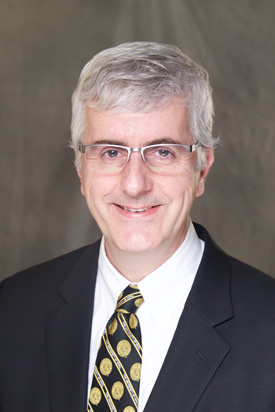 Dr. Cormac T. O'Sullivan, PhD, MSN, a Certified Registered Nurse Anesthetist (CRNA) from Coralville, Iowa, was recently selected as Program Director of the Year Award by the American Association of Nurse Anesthetists (AANA).
Dr. O'Sullivan is the program administrator for the University of Iowa College of Nursing's Doctor of Nursing Practice (DNP) Program in Nurse Anesthesia and practices clinically at the University of Iowa Hospitals and Clinics in Iowa City, Iowa. A remarkable leader and mentor, Dr. O'Sullivan did not know he was destined to be an educator. Hired as only the fifth CRNA at UIHC in 1996, he was asked to "give a few lectures" for the SRNAs.
"I just wanted to be a really good CRNA but when I started lecturing, my father-in-law, a professor of Physiology, kept asking me when I was going to start my PhD studies. One thing led to another, I had some great mentors, a very supportive wife, a lot of luck, and I fell in love with teaching." 
Furthering the profession of nurse anesthesia through research, education, and practice development is now Dr. O'Sullivan's life goal.
Upon becoming program director in 2009, Dr. O'Sullivan immediately transitioned the Iowa program to become the second COA approved DNP nurse anesthesia program in the country. The Iowa nurse anesthesia program has produced 182 CRNAs and due to O'Sullivan's leadership, more than 105 have earned their DNP degrees.
A consummate health care provider, Dr. O'Sullivan is also part of a three-nurse team that has secured funding to develop a "Simulation in Motion" – mobile simulation truck that will provide simulated education to emergency medical services personnel, rural hospital staff, and critical access hospital providers throughout Iowa.
A CRNA for more than 23 years, Dr. O'Sullivan earned his bachelor's degree in nursing from the University of Iowa, his CRNA from Ravenswood (Northshore University), his master's degree in nurse anesthesia from DePaul University in Chicago, Illinois, and his doctorate degree in Health Services and Policy from the University of Iowa. 
# # #
About the American Association of Nurse Anesthetists
Founded in 1931 and located in Park Ridge, IL., and Washington, D.C., the American Association of Nurse Anesthetists (AANA) is the professional organization representing nearly 53,000 Certified Registered Nurse Anesthetists (CRNAs) and student registered nurse anesthetists across the United States. As advanced practice registered nurses and anesthesia specialists, CRNAs administer approximately 45 million anesthetics to patients in the United States each year and are the primary providers of anesthesia care in rural America. In some states, CRNAs are the sole anesthesia professionals in nearly 100 percent of rural hospitals. For more information, visit www.aana.com.