Monday, September 13, 2021
Iowa holds two top-10 programs in 'US News' rankings of best universities
By UI Office of Strategic Communication | 9-13-2021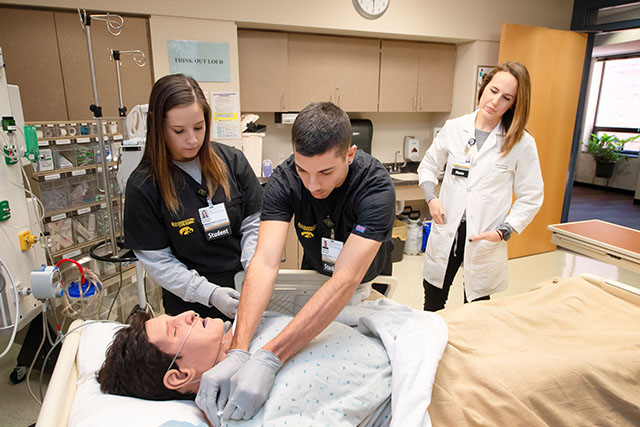 The University of Iowa improved its national ranking to No. 33 among public universities, while for the second consecutive year boasting the top public writing program in the country and a top-10 nursing program in the latest rankings published by U.S. News & World Report.
The rankings factor in numerous variables for the nation's public and private universities, including student outcomes (such as rates of graduation and retention), assessment by academic peers, faculty resources, overall financial resources, ACT/SAT scores, high school class standing, and alumni giving.
From last year, the university improved its overall ranking one spot (up from No. 34), as well as its graduation and retention rate, predicted six-year graduation rate, social mobility rank, faculty resource rank, and student excellence rating.
"It's gratifying to see improvement in the outcomes that matter most to our students and families, which is creating an environment that retains students and keeps them on path to graduating in four years," said Iowa President Barb Wilson. "We will continue to invest in programs that help students achieve success during their time at Iowa and after they graduate."
Iowa was 10th overall in writing in the disciplines, and for the second consecutive year was named the top public institution. The UI was the only public institution to make the list, joining universities such as Harvard, Yale, and Duke.
In a new ranking this year, the report placed Iowa's undergraduate Bachelor of Science in Nursing (BSN) program 10th overall. This ranking was based on the survey results of deans and senior faculty members of nursing schools and departments at institutions across the country.
With a national reputation for excellence, the UI College of Nursing is one of the premier institutions in the country for nursing education. The college's innovative undergraduate programs are taught by world-renowned faculty who are widely recognized for their contributions in advancing the profession. Several of the college's graduate practice programs also rank among the best in the nation.
Click here to read the full article by UI's Office of Strategic Communication
# # #