Wednesday, September 29, 2021
By Jamie Nicpon | Office of Communications & Marketing | 9-29-2021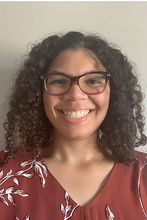 Ciara Demings, a fourth-year student in the University of Iowa's Doctor of Nursing Practice (DNP) Family Nurse Practitioner (FNP) program, was recently awarded a Graduate Diversity Scholarship from UI's Graduate College.
Graduate Diversity Scholarships are presented to graduate students who are U.S. citizens or permanent residents, with a preference for underrepresented minorities, first generation students, students with disabilities, and women in science, engineering, and mathematics fields (including computer science, economics, engineering, math and applied math, and physics).
Students must have completed at least one full semester of graduate study at the University of Iowa to be eligible. 
"It is an incredible honor to receive this prestigious award from the Graduate College and the College of Nursing. This speaks volumes to our campus culture that we celebrate and encourage diversity in higher education," said Ciara. "My devotion to diversity throughout my professional career has been reinforced by this award. Diversity is crucial in the nurse practitioner profession as it increases representation of minority groups and encourages different viewpoints."
The Graduate Diversity Scholarship will help Ciara continue her studies while allowing her to actively participate in clinical experiences, including additional supplemental learning opportunities. She hopes to one day pay it forward by creating a scholarship that celebrates minority groups pursuing a DNP in UI's Family Nurse Practitioner program.
Ciara, who is currently a staff nurse in the Post Anesthesia Care Unit at University of Iowa Hospitals and Clinics, is passionate about implementing and supporting diversity initiatives, and intends to prioritize these initiatives as a doctorate prepared advanced practice nurse and future health care leader.
"The DNP-FNP degree will help me to use my clinical experience and leadership skills to make meaningful changes for our health care system. My goal is to use quality improvement to enhance care delivery and increase access to care."
# # #