Wednesday, September 4, 2019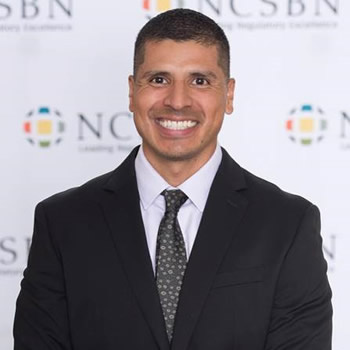 By Jamie Nicpon | Office of Communications & Marketing | 9-4-2019
Iowa Board of Nursing Associate Director of Practice and Education Jimmy A. Reyes, an alumnus of the University of Iowa's Doctor of Nursing Practice program, was recently inducted as a fellow of the National Council of State Boards of Nursing's (NCSBN) Institute of Regulatory Excellence (IRE).
IRE began in 2004 with the purpose of providing boards of nursing (BONs) with high-quality regulatory education, expanding the body of knowledge related to regulation through research and scholarly work, developing the capacity of regulators to become expert leaders, and developing a network of regulators who collaborate to improve regulatory practices and outcomes.
"The associate director with a regulatory fellowship has the opportunity to advocate for progressive and constructive change in the health care community through empowerment, advocacy, and utilization of evidence-based regulation that informs practice and education," said Dr. Reyes. "Through participation in the NCSBN IRE fellowship program, I have expanded my current knowledge of regulatory paradigms and evidence-based regulation with the intent to standardize and implement telehealth modalities in Iowa. I've also developed expertise in regulatory research methodology that will promote a program of research related to systems and organizations that support and maintain the use of telehealth modalities."
In addition to Dr. Reyes, the 2019 class of fellows includes:
Bonnie Crumley Aybar, MSN, RN, CPAN, New Hampshire Board of Nursing
Jackie Baer, DNP, APRN, FNP-BC, South Carolina Board of Nursing
Denise Benbow, MSN, RN, Texas Board of Nursing
Tammy Buchholz, MSN, RN, CNE, North Dakota Board of Nursing
Janeen Dahn, PhD, RN, FNP-C, Arizona State Board of Nursing
Diana Heywood, MN, RN, College of Registered Nurses of Manitoba
Karl Hoehn, JD, Washington State Nursing Care Quality Assurance Commission
Leanne Matthes, MA, College of Registered Nurses of Manitoba
Angela McNabb, MN, RN, CPMHN, College of Nurses of Ontario
Renata Neufeld, MPA, College of Licensed Practical Nurses of Manitoba
Kristie Oles, EdD, MSN, RN, Ohio Board of Nursing
LaDonna Patton, MSN, RN, CEN, Alabama Board of Nursing
Janice Penner, MSN, RN, British Columbia College of Nursing Professionals 
This was the 13th class of fellows inducted by NCSBN, and the group was formally recognized during the council's annual meeting and delegate assembly, which was held last month in Chicago.
# # #
About NCSBN
Founded March 15, 1978, as an independent not-for-profit organization, NCSBN was initially created to lessen the burdens of state governments and bring together nursing regulatory bodies (NRBs) to act and counsel together on matters of common interest. It has evolved into one of the leading voices of regulation across the world. For more information, go to ncsbn.org.