Past Resident Spotlights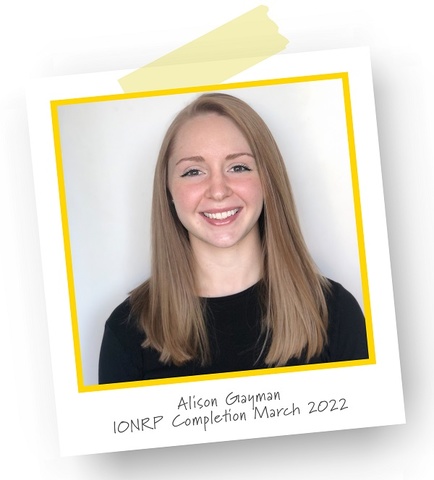 How has the nurse residency program impacted you as a new nurse?
The program gave me skills to communicate with doctors and peers and helped me learn how to bounce back from setbacks. I also learned how to present my best self to my patients, which includes making sure I am taking care of myself. Overall, the program gave me a great foundation for starting my career. It truly helped me not feel like I was alone in my journey and prevented me from stepping into a mindset where I felt like I wasn't cut out to be a nurse.
What was your favorite part of the program?
My favorite part was simply having an instructor who has been on the floor, knows how it is to be a new nurse and is willing to honestly share her mistakes and how she managed during difficult times. Having someone who you know is on your side that you can openly communicate with about your struggles is huge.
Why would you recommend our program to other new nurses?
Absolutely! You learn ways to manage patient load, how best to communicate with doctors and peers and how to become resilient in a career with many ups and downs. The program also provides a safe haven where you can speak your thoughts and fears to someone who understands how you feel without being someone at your place of work.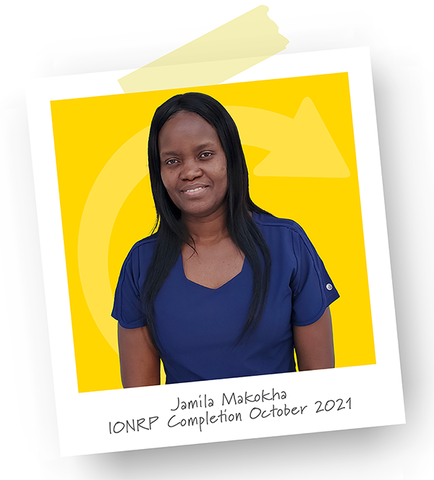 How has the nurse residency program impacted you as a new nurse?
As a new nurse no one prepares you for the challenges you encounter in the field, most often people try to focus on NCLEX and forget that anxiety, nervousness, and excitement of the new role awaits you. There were times I felt like I chose the wrong career or I'm just too incompetent for my skills and I didn't know why I did so well at school. The unexpected events made me question my skills as a new nurse but when I went through the resident program, I realized that I was not alone. I realized that every graduate is having that moment where they felt uncomfortable in the same way. Nursing school gives you all the hints you need to look for your patient, it's like a pre-made meal and all you need to do is bake/spice and serve. It makes it look so easy for you. Bedside nursing is completely different, it requires more critical thinking skills, assessment, and quick decision-making. As a new nurse your mental status is not prepared for quick changes. I learned to solidify these skills through the resident program. In most nursing schools, assessment class is done around the 2nd or 3rd semester, so by the time you graduate you don't really remember all the things. The program was like doing the class again, only this time it is hands on. You see what is being taught, not imaginary patients. You ask for your own labs, vitals, you must learn to trust your intuition hoping that you are considering the total context of the situation. These are very hard for a new nurse

What was your favorite part of the program?
There were many favorite parts for me. I enjoyed every moment of it, especially monthly meetings with the program Manager, Nicole Weathers. Going through the discussions was very fulfilling. Listening to my teammates talk about how they are adapting to their facilities, mistakes they've experienced, aha moments and so forth. If I had to pick one, I really enjoyed learning about Building Resiliency with Dr. Patrick Jeffs. I was surprised by how little things we do, without knowing, can change your daily outcome. Since the class I have greatly improved on resilience with myself and those around me. I have learned to make the best out of everything around me and I give the best I can to those I serve.

Why would you recommend our program to other new nurses?
I recommend this program to not only new nurses, but even those that have been in the field for a long time. The nursing field is an everchanging career. Every day you are learning something new. It can be quite challenging and often people forget that mistakes can happen to anyone, no matter how long you have been in the field. Having a shoulder to lean on in such moments is great. We are all human beings, and we all experience stress whether it's a patient not doing so well or doctors not acknowledging your concerns. This program is a refresher on your skills and keeps you motivated, but it is also a place to vent, exchange ideas with other nurses that might be experiencing the same problems somewhere else and connects you with other healthcare members in your area that you might not have known. Discussion board was great for new ideas and boosting people's confidence and morale's. Every nurse can benefit from it. I used to be shy and not really up for trying new things, because I felt like no one will really hear me or it doesn't matter anyway, someone else will do it. I would see things that I felt could have been done differently but ignore it and wait for someone else to fix it. Since I had no choice but to do a project as part of the program, I realized how wrong I was for assuming things because it made a huge change in my facility. Something I thought was small had a big impact and got so much attention.
Through this program I have learned to speak up, take chances with new roles, learned prioritizing my patients, developed strong critical thinking skills and I no longer fear to voice my concerns when in doubt and I have been more mindful.
Testimonials
The online platform is very easy to use and meets our needs for moving forward for accreditation. We have had great support from our IONRP partners, Nicole and Karla, they are always responsive and willing to help us create the best tool for our needs!" —Stacey Fort, PDS Manager, Presbyterian Healthcare Services, Albuquerque, NM
---
The Iowa Online Nurse Residency Program taught me how to be a nurse. I learned prioritization in the real world when two doctors are demanding your attention at the same time while an admit is coming at shift change and the patient you were about to discharge starts to have chest pains. I learned how to function in a team and resolve conflict so that we can all focus on caring for our patients. I learned how to communicate important information to providers quickly. I learned there are right and wrong ways to delegate. I learned how changes to policy or procedure occur, and how to initiate and follow-up on them myself.  Within three months of starting the program, I went from being completely overwhelmed by everything I didn't know, to having confidence in my abilities. I truly believe the residency program saved my sanity this past year."

 —Amanda Huynh, IONRP Graduate, Crawford County Memorial Hospital, Denison, IA
---
The nurse residency program has been beneficial not only to our nursing staff, patients, and families but to our culture. The nurses who participated in the residency program have been excellent spokespeople about how the residency program has enhanced their nursing careers. Specific comments I have heard from participants are related to; critical thinking, teamwork, and patient outcomes. This program provided the nurses in a rural setting the opportunity to expand their knowledge base while gaining confidence and exhibiting pride in their chosen profession."    

 —Katie Heldt, Chief Nursing Executive, Greene County Medical Center, Jefferson, IA
---
The best part of initiating the Iowa Nurse Residency Program in our organization is to see the professional growth and development in our nurses!"

—Ann Erickson, Acute Care Director, Greene County Medical Center, Jefferson, IA
---
I was enrolled in the Iowa Online Nurse Residency Program from June 2016 - June 2017. Over the past year, I have really grown as a "new nurse."  I have a new confidence in myself and my abilities.  Little things that used to scare me like talking to doctors or asking for help are just a part of my daily routine now. I recently had my annual evaluation and even my supervisor commented on how much I have grown over the past year.  The project that I chose to do was a pretty intense and integrated project, changing areas of care all throughout our hospital.  Nicole was very helpful and was able to and willing to help guide me through the implementation process.  Every challenge that arose molded me into the nurse I am today.  I look forward to using the skills I learned in the program to continue to grow and to become the best nurse I can be for the patients, families, and community that I serve."

—Alyssa Hinojosa, IONRP Graduate, Buena Vista Regional Medical Center, Storm Lake, IA
---
The online nurse residency program has turned out to be a positive experience for our residents at Spencer Hospital. We have seen the program boost confidence in their critical thinking and communication skills. A popular topic in the program modules has been the SBAR information. Several residents have used this strategy when communicating with physicians with positive outcomes. Staff that was initially afraid to call a physician after hours now feels much more comfortable and confident in making that call.  Most exciting is the networking that happens in the monthly cohort calls where residents can share stories and gain new ideas to take back to their unit.  We have found since we started the residency program that other staff are curious about what the Nurse Residency is about and the participants are strong advocates for the program and freely share what they have learned for the benefit of all staff. We have found that staff selected to engage in the program see this as a perk to their job!"

—Brenda Tiefenthaler, VP Patient Care Services, Spencer Hospital, Spencer, IA
---
We have had several positive comments from our nurse residents about the program. One, in particular, from a nurse in the program who has been on staff for three years. She is enjoying the program, but said 'my first year here would have been a lot easier if I would have done the program then.' As Staff Development RN, the program is giving me the opportunity to work closely with our new nurses, knowing that this is a great program to assist them on their professional path. We have five other nurses waiting to start with the next enrollment period."

—Debra Tekippe, Supervisor, Same Day Services, Staff Development RN, Winneshiek Medical Center, Decorah, IA
---
The (Iowa Online) nurse residency program was useful because I was able to relearn concepts that I had forgotten from nursing school and was able to directly apply them to my job. I believe I am a better nurse for it. Thank you for everything you have taught us this past year!"

—Emily Culver, UnityPoint Health - St. Luke's Hospital, Sioux City, IA