Welcome to the Doctor of Nursing Practice (DNP) Family Nurse Practitioner program at the University of Iowa! We're excited to have you exploring the University of Iowa as an option for your graduate education.
Our Family Nurse Practitioner program works to incorporate rigorous academic learning with comprehensive clinical experiences to prepare you for advanced nursing practice at the doctoral level. You will begin your educational journey focusing on the foundations of advanced nursing practice, emphasizing how you can improve quality, safety and patient outcomes through nursing leadership. Initially, your courses will be online. Then you'll transition to regular on-campus coursework where you solidify your knowledge in advanced pharmacology, health assessment, and pathophysiology to care for patients.

We know students are excited to get into the clinical setting. Our faculty and staff at the College of Nursing connect you with well-established preceptors who help you translate knowledge to practice while gaining hands-on experience and skills. It is important to us that you experience a variety of care settings which may include rural clinics, urban centers, and community health clinics. Because of this, there may be times when you travel outside your hometown in exchange for robust clinical experiences.

The hallmark of your doctoral education is showing mastery of nursing practice. During your time at the University of Iowa, you will lead a DNP Project, where you will identify a real-world issue in a clinical setting, evaluate potential solutions supported by literature, and implement a sustainable change that improves care.

By the completion of the program, students have experienced more than 630 clinical hours and 370 DNP Project hours. This is more than is required by the American Nurses Credentialing Center (ANCC) and the American Association of Nurse Practitioner (AANP). Our graduates are highly sought after, representing the nursing excellence that the University of Iowa is known for.

If you're interested in taking your nursing career to the next level and have questions about what our program has to offer, please do not hesitate to reach out!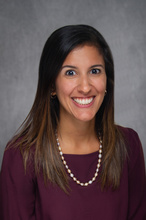 On Iowa, Go Hawks!
Amalia Gedney-Lose, DNP, ARNP, FNP-C
Director, Family Nurse Practitioner Program