Monday, September 2, 2019
The multiple study abroad experiences completed by recent University of Iowa nursing graduate Megan Lough shaped her career prospects—and her outlook on life.
By Sara Epstein Moninger | UI Office of Strategic Communication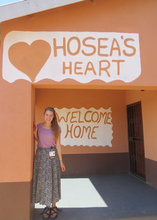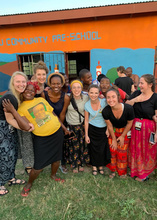 Megan Lough knew she would get a quality education at the University of Iowa College of Nursing. The school had popped up when she searched for the best nursing colleges. What she didn't expect was how her academic experiences abroad would unveil her true passions in health care.
"I have a greater worldview because I went to the University of Iowa," says Lough, a native of Eagan, Minnesota. "I understand diversity more. I am able to see the value of an environment that continually cares about teaching and learning and researching and being innovative."
By the time she graduated from Iowa with a Bachelor of Science in Nursing in 2019, Lough had spent five months in Peru studying Spanish, five weeks in Colombia performing nursing research, and two weeks in Eswatini, a small country in southern Africa where she learned about community and public health nursing. These experiences, she says, helped her determine the kind of nurse she wants to be.
"I'd like to use my Spanish abilities to go out into Hispanic communities, hear their stories, find out what they need, and be able to provide a medical service to them in a way that is culturally appropriate," says Lough, currently a nurse in the cardiovascular surgery progressive care unit at Mayo Clinic in Rochester, Minnesota.
Lough had studied Spanish in high school and wanted to continue that cultural experience in college, so she consulted with UI Study Abroad staff, who connected her to a semester-long program in Peru. She enrolled at Pontifical Catholic University of Peru in her sophomore year.
"I took mainly language and culture classes there, and one of the classes counted as a Gen Ed requirement at Iowa, but my main goal was language learning," she says. "The experience opened my eyes to a culture that I'd never experienced before. It forced me outside my comfort zone and taught me to be flexible and adaptable. In America, everything is structured and on a time crunch, but there everything is relationally driven. For example, if you're late, it's not a big deal. People just want to spend time together."
Lough's next experience abroad focused on research. Having served as a research assistant during her first two years on campus, Lough worked with her mentors in the College of Nursing to identify and develop her own research topic: barriers to health care access in Iowa's Hispanic migrant communities. She completed a pilot project studying farmworkers with Type 2 diabetes and determining the risk factors that prevented adequate management of the disease.
Excited to build on her research knowledge, Lough applied for and received a Stanley Undergraduate Award for International Research, which led to a five-week study of patients in Colombia with Type 2 diabetes. She compared the findings with those from the Iowa population. As Lough's faculty adviser, Professor Ken Culp guided and encouraged her through the project.
"I feel it's important for students like Megan to get a global perspective on inpatient and outpatient care," says Culp, who has seen an increase in nursing students pursuing clinical experiences abroad. "Studying in Colombia was a tremendous opportunity for her to get a wider perspective than she would get just focusing on patients here in Iowa."
Click here to read the full article by UI's Office of Strategic Communication 
# # #