Wow! 2021 seemed to go by in the blink of an eye, and what a year it has been. As 2022 begins, I can't help but look back on everything the last year did for us to continue to grow and meet our mission. When I look at our list of accomplishments throughout the year, I am amazed by how many opportunities we had to get out and share our program and models for delivery. It has been an absolute honor to be a part of it all, either through sponsorships, publications, or presentations of our work. The best part of it all was through these opportunities, we were able to connect with a wide range of individuals, like you, that are shaping the future of our nursing workforce and the professional development of nurses.
In 2021, one of our main goals was to allow our network of employers and new graduates to play a more active role in shaping our future. We did this by creating an opportunity to learn in the community with our site coordinators through monthly cafés. Through this intentional monthly connection, we took the time to listen to our partners, what is happening in their worlds when it comes to recruitment, training, and retention of their nursing workforce, and what they needed from us to support their new graduate nurses. As these cafés continue through the upcoming years, I hope that together we can figure out how our program should evolve to meet the ever-changing needs of our users, and we can shape the way new graduates are transitioned into practice in the future, improving the lives of these individuals and the healthcare system.
We closed out this last year talking and dreaming about what the future holds for this program. After careful consideration of current trends in healthcare and reviewing all the feedback and evaluation data from our existing users, we have come up with an exciting list of goals to work towards in 2022. We can't wait to get started and have our partners participate in the process. Here's to another great year of growth, innovation, and service.
Wishing you nothing but the best in the year ahead!
Nicole Weathers, MSN, RN, NPD-BC
Iowa Online Nurse Residency Program Manager
Click here for the PDF version of the 2021 year in review timeline
---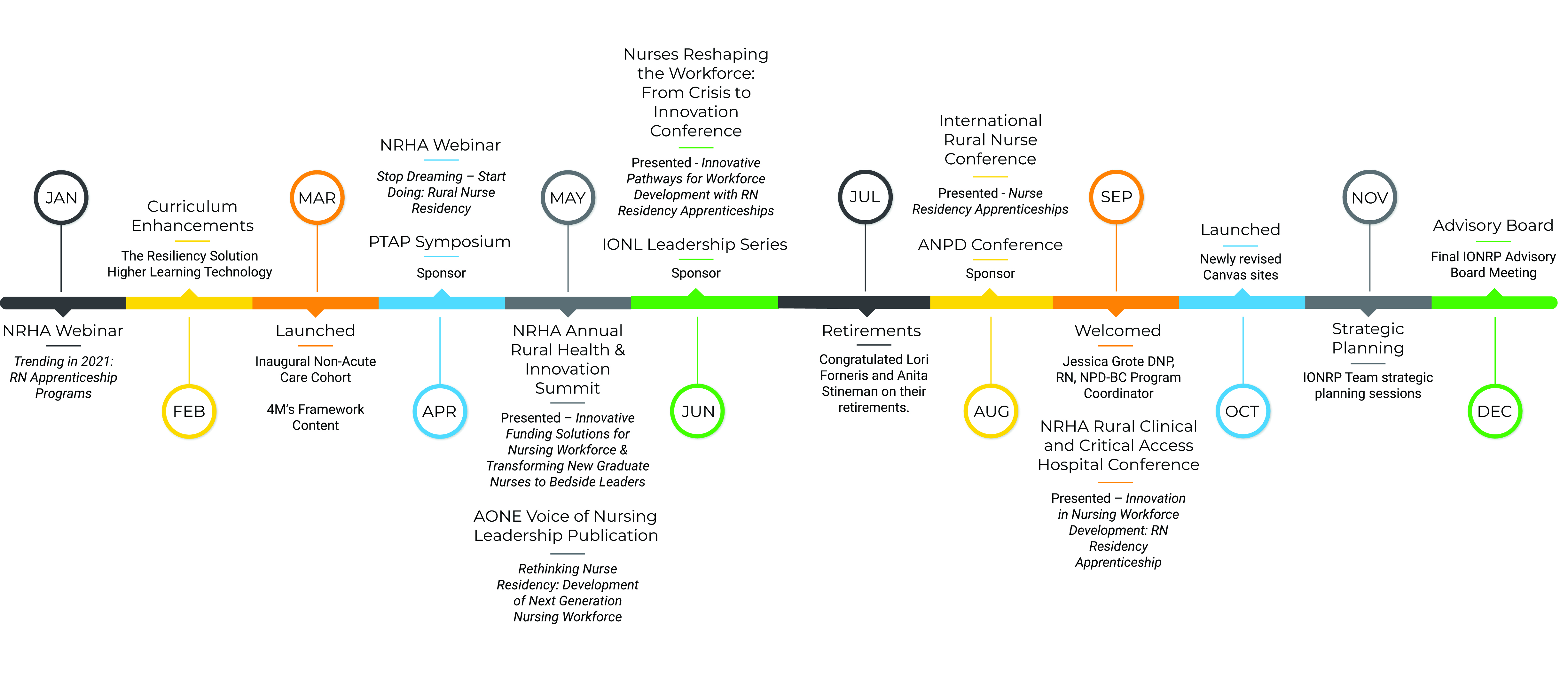 ---