Tuesday, October 26, 2021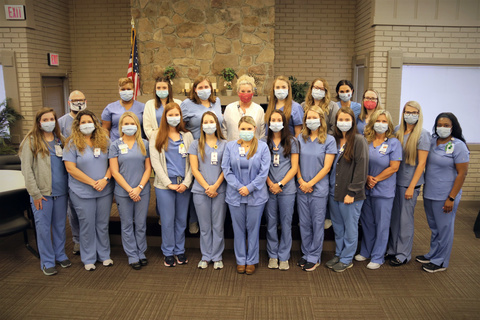 Congratulations to East Alabama Medical Center (Opelika, AL) for graduating their third cohort of RN Residents on September 18th, 2021. Not only did 26 new graduates complete the year-long program, but they had a total of 15 residency projects presented at the September 2021 celebration.
"I think that they were an exceptional group. I could not be prouder of them," said Site-Coordinator Lea Howell, MSN, RN. "They came out of school having not completed their last semester of school, and they did not get to do preceptorships. Some of them had literally not done even some of the most basic nursing skills. They had no real concept of what the "day in the life of a nurse" was. Yet, they persevered."
EAMC successfully started its residency program in March 2020 at the start of a global pandemic facing many obstacles along the way. "Many of the residents were asked to mentor new nurses or be charge nurses within the first 6-months of their transition into practice. Some of them have since moved into full-time charge nurse positions," Howell said. "...and are now mentoring and coaching my latest cohort, as well as the one starting at the end of this month."
The September 2021 graduates presented 15 residency projects that highlighted areas they are passionate about and would like to influence change. The residency projects included:
The SAFE, CTC Badge Buddy, Standardizing Documentation in the Level 2 Nursery- Cerner Charting for New Employees, Healthy Work Environment- Changes to PCU Break Room, Caring for a TAVR Patient, Falls on Five, Diabetes Quick Reference Guide on 4T, PCU Quick Reference Guide, Standardization of Care: EAMC ED, Lanier ED, FED, Skilled Nursing Skills Day, Ethics Committee, RN Patient Care Responsibilities – 3 North Lanier, Care Coordination for Lanier Ambulatory Surgery Center, Physician Preferences Guide, Quantification of Blood Loss (QBL).
Congratulations to East Alabama Medical Center! Interested employers should contact nicole-weathers@uiowa.edu for more information or schedule a time to visit 1:1, to learn more. Nicole Weathers, Program Manager, IONRP nicole-weathers@uiowa.edu